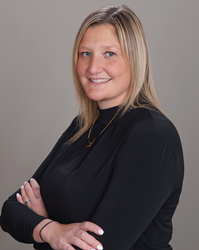 As Gilbane's regional footprint expands, especially in the healthcare sector, Kelly's level of experience and local construction knowledge make her a valuable addition not only to the Gilbane team, but the clients she will serve.
BUFFALO, N.Y. (PRWEB) December 17, 2019
Gilbane Building Company announced the appointment of Kelly Maloney to their growing Buffalo office. Maloney, who has extensive experience working on some of Western New York's biggest projects, will serve as Project Manager for the Erie County Medical Center (ECMC) renovation.
Kelly Maloney will oversee Gilbane's role on the project, where it is providing construction management at-risk services to perform building development improvements and the main lobby expansion and renovation of the exterior including a full window replacement. She began working in the industry 15 years ago and has been based in Western New York since 2006. Her wealth of knowledge about the area and her relationships with local stakeholders will be valuable not just to this project but to all of Gilbane's future projects in the region.
Gilbane has multiple projects in Western New York currently ongoing in addition to ECMC, including the historic expansion of the Albright-Knox Gallery and the renovation and build out of the Northland Workforce Training Center. It recently started renovations at SUNY Oswego Funelle Hall and completed the major expansion to the SUNY Buffalo Jacob's School of Medicine.
"Kelly's level of experience and local construction knowledge make her a valuable addition not only to our team, but also to the clients she will serve," said John LaRow, Vice President for Upstate New York, Gilbane Building Company. "She is a great asset to our team in Western New York and will help Gilbane deliver the world-class projects that the local community deserves. As our regional footprint expands, especially in the healthcare sector with projects such as Erie County Medical Center and the Mohawk Valley Health System's new regional medical center, bolstering our team with talent such as Kelly's is key to our continued growth and success."
Ms. Maloney received her B.S. in Business Administration from Ithaca College and a certificate in Construction Technology from Erie Community College. She began her Western New York construction Career at Cannon Construction Services, where she was an Assistant Project Manager. Prior to joining Gilbane, Maloney was a Project Manager at RP Oakhill Building Company and also worked at LiRo Engineers on the Rosewell Park Cancer Institute.
About Gilbane Building Company
Gilbane provides a full slate of construction and facilities-related services – from pre-construction planning and integrated consulting capabilities to comprehensive construction management, general contracting, design-build and facility management services – for clients across various markets. Founded in 1873 and still a privately held, family-owned company, Gilbane has more than 45 office locations worldwide.
Since1949, Gilbane has been delivering construction services in New York State for clients across various market sectors including commercial office, multi-unit and high rise residential, cultural, education, healthcare, public sector, mission critical and science and technology. For more information, visit http://www.gilbaneco.com.