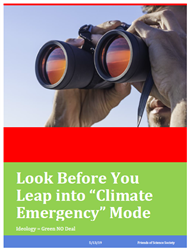 "Look Before You Leap into 'Climate Emergency' Mode" is a new climate change report by Friends of Science Society intended to calm the intense sense of emergency felt by people who are proponents of "The Pact for a Green New Deal "
CALGARY, Alberta (PRWEB) May 15, 2019
"Look Before You Leap into 'Climate Emergency' Mode" is a new climate change report by Friends of Science Society intended to calm the intense sense of emergency felt by people who are proponents of "The Pact for a Green New Deal "as reported by The Star Vancouver - "Intense sense of emergency drives Canadian version of Green New Deal" - on May 6, 2019.
Jagmeet Singh, leader of the federal NDP, presented a motion in the House of Commons to declare a climate emergency. He called for a phase-out of fossil fuel subsidies as reported by the Huffington Post on May 13, 2019. Friends of Science "Look Before You Leap into Climate Emergency Mode" report shows these subsidy claims are imaginary.
Nationwide, there are calls for provincial and federal governments to declare a "climate emergency" as reported by the National Observer of May 9th, 2019, but Friends of Science Society warns this smacks of totalitarianism, and such a declaration is unjustified based on the evidence.
Friends of Science recent rebuttal to the Canadian federal climate report presents that evidence in "Climate Change Your Mind," issued May 1, 2019.
Friends of Science refutes "The Pact's" examples of current day climate "catastrophes," noting that in the 1930's the Arctic was 4.6°C warmer than it is today (Arazny et al, 2019, Springer "Theoretical and Applied Climatology").
In the 1950's some 3.4 million acres of forest went up in flames in northern British Columbia and Alberta in the Chinchaga firestorm – the smoke pall from which was seen around the world, as reported in Cordy Tymstra's book, published by the University of Alberta press.
The claims "The Pact" makes that 'once-in-a-century floods' are commonplace is a misreading of this term; 1 in a 100-year floods can happen in consecutive years as explained by the US Geological Society. LINK: water.usgs.gov/edu/100yearflood-basic.html
Calgary's eight worst floods were before 1933, two of them with larger flows than that of 2013, as reported by the Weather Network, June 25, 2013. LINK: theweathernetwork.com/news/articles/calgary-floods-it-could-happen-again/8295
Friends of Science Society points out that all of these occurred before human-causation is said to have affected climate change and when CO2 levels were low.
"Look Before You Leap" is especially critical of Canada's promotion of electric vehicles, citing a report entitled "Electric Vehicle Considerations for Canada" posted on their blog, that shows Canada will not have sufficient electrical power generation to meet demand. No new power generation projects are even on the drawing boards. The costs of new generation and related transmission and grid upgrades would be in the hundreds of billions, depending on rollout.
Friends of Science Society invite people to review their "Polar Bears and Solar Flares" event presentations.
About
Friends of Science Society is an independent group of earth, atmospheric and solar scientists, engineers, and citizens who are celebrating its 16th year of offering climate science insights. After a thorough review of a broad spectrum of literature on climate change, Friends of Science Society has concluded that the sun is the main driver of climate change, not carbon dioxide (CO2).
Friends of Science Society
P.O. Box 23167, Mission P.O.
Calgary, Alberta
Canada T2S 3B1
Toll-free Telephone: 1-888-789-9597
Web: friendsofscience.org
E-mail: contact(at)friendsofscience(dot)org
Web: climatechange101.ca