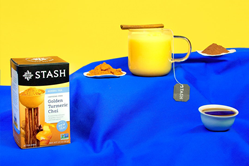 This caffeine-free blend combines chai spices and turmeric that brews to a beautiful golden color with an enticing aroma and natural spicy sweetness with an earthy punch.
TIGARD, Ore. (PRWEB) October 07, 2021
Looking for a chai with a twist? You've found it. Introducing Stash Tea's Golden Turmeric Chai Tea. This caffeine-free blend combines chai spices and turmeric that brews to a beautiful golden color with an enticing aroma and natural spicy sweetness with an earthy punch. You'll also taste spice-forward notes from the cinnamon, ginger, and clove. The ingredients make for a dreamy and spicy turmeric ginger tea that is soothing and creamy, yet lively in flavor.
What is chai tea? Chai is the Indian word for tea, but as they usually drink tea with sugar and milk in India, chai has become synonymous with milk tea. From there, the definition of chai has evolved even further; now we think of chai as a mixture of black teas with milk, sugar, and spices like allspice, ginger, cardamom, and cinnamon. Our Golden Turmeric Chai combines chai spices with turmeric, to make a caffeine-free version that's pure gold.
Move over Matcha – interest in turmeric drinks has grown substantially in the past year.

Caffeine free- Stash Tea's Golden Turmeric Chai is the perfect before-bed chai
Tasty! Turmeric is said to taste similar to ginger, but more earthy.
Turmeric is known as a superfood. We call it good mood food.
Turmeric is used widely in ayurvedic medicine.
To locate a store near you where Stash Tea is sold, please visit: https://bit.ly/3jFaUKs.
Turmeric Tea Latte Recipe:
Our Turmeric Golden Milk Tea Latte recipe is a creamy, dreamy treat that you'll be tempted to frequently make. You'll taste an earthy, slightly peppery turmeric flavor as well as traditional warming chai spices, with a noticeable nod to breakfast waffles, thanks to the maple syrup used for sweetening.
Turmeric Golden Milk Tea Latte
Makes one 16 oz drink (or two 8 oz drinks, if you feel like sharing)
Ingredients:
For Tea Mixture
For Golden Latte
1 cup coconut milk (or milk substitute of choice)
½ tbsp coconut oil
2 drops vanilla extract
Pinch of turmeric powder
4 tbsp maple syrup (or to taste)
¼ tsp cinnamon
Pinch of nutmeg
Pinch of pepper
Directions
1. To make the tea mixture, simply steep both tea bags in 1 cup of boiled water for 5 minutes. Then remove tea bags, squeezing out the excess tea from the bags before discarding them.
2. For the Golden Latte, use a small pot on a burner set to medium. Add the brewed tea and coconut milk first. Immediately mix in the remaining ingredients in the order that they're listed. Without letting it boil, bring the mixture to a high simmer for about 8 minutes, stirring constantly so the bottom doesn't burn.
3. Remove from heat and froth if you prefer. You can also pour the drink through a fine-mesh strainer to remove the spices settled at the bottom of the cup, but it's not necessary. Lastly, pour your golden milk tea into a tall mug, spooning the optional froth on top.
Feeling even more adventurous? Try any of our other chai tea latte recipes with a turmeric twist by replacing the chai tea that we used with our Golden Turmeric Chai tea.
ABOUT STASH TEA:
Stash was founded in Portland, Oregon in 1972 by two hippies seeking a tea euphoria. Since then, Stash Tea's mission has been to surprise and delight your taste buds with best-in-class ingredients and diverse flavors that brew bold and bright. With over 150 different teas to choose from, you're sure to find your next favorite!
Stash Tea is a certified B Corp, making a public commitment to use the power of business to solve social and environmental problems. We are part of a global community redefining success as balancing profit and purpose, acting in the best interest of our people, our partnerships and our planet. Please visit https://www.stashtea.com to purchase and/or for more information.