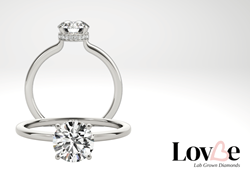 NEW YORK (PRWEB) September 22, 2021
Oops she did it again! When Britney Spears announced her engagement to her long-time boyfriend last week, she instantly set the trend for engagement rings this upcoming proposal season. While a 4-carat diamond may not be everyone's reality, the look of her classic 4-prong, platinum-set solitaire diamond ring certainly is.
Lab grown diamond brand LovBe has released a ring setting similar to the one currently adorning Ms. Spears' finger, as well as a plethora of new lab grown diamond engagement ring styles that are sure to elicit a 'yes' from many brides-to-be.
Hidden Halo Ring Setting Styles
These surprise diamond delights feature a secret only the wearer will be wise to: beyond the magnificent lab diamond bezel surrounding the center stone, there is a hidden 'halo' of pave diamonds just below the center stone on the ring's setting. While not visibly viewed from the initial glance, upon a closer look, this surprise diamond setting shines when viewed from side and elevates this extraordinary setting to another level.
The hidden halo rests atop a sleek pavé band, completing this sparkle-covered look. Hidden halo settings are available with a range of center stones, from round brilliants and ovals to pear shapes and emerald cuts. For those looking to sparkle inside and out, look no further than this exquisite setting design.
Embellished Ring Setting Style
For those couples looking for something classic yet slightly different, consider an engagement ring with side stones. An embellished ring style is based upon a timeless solitaire setting, with a round, oval, or princess cut diamond set on sleek band. By adding smaller diamonds surrounding the center stone, like petals on a flower, a bezel with a slight halo effect is created. Alternatively, diamonds are available studded along the band, making this ring style anything but ordinary, and perfect to be stacked with a wedding band or two! Accent diamond additions bring a special touch to a ring, truly setting it apart.
Vintage-Inspired Ring Setting Styles
The newest of LovBe's engagement ring introductions come from the oldest of inspiration: intricate in detail, these romance-infused rings have been influenced by vintage designs of centuries past. Beautiful beadwork, delicate prongs and fine filigree create a look that defines the epitome of elegance and sophistication. Select a desired diamond shape for the center stone, the preference of metal (from yellow gold to platinum), and a dream ring becomes reality.
To explore all of LovBe's engagement ring offerings, start with their easy-to-use Ring Builder at LovBe.com.
About LovBe:
Founded in the dawn of a new decade, LovBe exists solely to provide its customers with the highest quality, most brilliant lab grown diamond for the best value available. An e-commerce DTC brand, our customers' ultimate happiness is at the forefront of LovBe's journey. From customized designs, to unparalleled customer service, your LovBe experience will be as refined as your chosen diamond. LovBe offers free shipping (US and Canada), as well as 60-day returns on purchases. Let LovBe…your guide to the perfect engagement ring at http://www.lovbe.com.