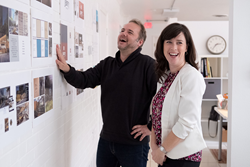 We always, always had a plan and a guiding idea: Do work that matters and leave a positive wake.
AUSTIN, Texas (PRWEB) November 01, 2018
Austin-based advertising and public relations agency lookthinkmake celebrates its 10-year anniversary this month, capping off a remarkable decade of work in the business of building places that feel like destinations. After founding lookthinkmake with $50 in a bank account at the lowest point of the housing crisis, founders Sean Thompson and Patricia Buchholtz grew the firm into a full-service powerhouse whose fingerprints are on some of Austin's most iconic landmarks.
In the fall of 2008, Thompson and Buchholtz joined forces after working together in real estate marketing – Buchholtz client-side with a large-scale developer and Thompson as a freelance creative during his 15-year tenure helming the University of Texas' creative advertising program. With Thompson as creative director and Buchholtz heading up marketing strategy, the two found themselves uniquely in tune with each other and the recovering Austin real estate market.
"Forming our own agency gave Patricia and I the opportunity to take a step back and get to the heart of what we really wanted to do," said Thompson. "It was our chance to switch our thinking from real estate to what real estate is really about: Creating places that connect with people, places that make us feel like we're home."
That philosophy, which the agency has dubbed "placemaking," has been the motivating force behind lookthinkmake's work as services have expanded over the years to include branding, media, digital marketing and public relations. The placemaking scope also expanded in the following decade as lookthinkmake's client base grew to include leaders in the arts, architecture and public spaces. As the economy recovered, Buchholtz and Thompson found themselves in a position to influence Austin's culture by branding some of its most iconic new places.
Beginning with its first client Plum Creek, a master-planned community in Kyle, Texas, lookthinkmake quickly carved out its niche as a real estate powerhouse in Austin, leading to the agency's efforts in brand development, marketing and PR for The Austonian, the city's then-tallest skyscraper and forerunner of the development boom that would transform downtown Austin. Patricia, Sean and company would leave their mark on Austin's skyline again with Fareground at One Eleven Congress and the nearly-complete Independent, plus work for the American Institute of Architects' Austin chapter and several large-scale residential developments throughout central Texas like Goodnight Ranch, the Crossvine and Friedën.
After an early national award-winning campaign for Art Alliance Austin, lookthinkmake began building a portfolio with arts and culture programs and initiatives in Central Texas, including public relations for city-spanning art projects like Jennifer Chenoweth's XYZ Atlas. In 2014, UT Austin's public arts program Landmarks began a multi-year relationship with lookthinkmake, who provided design assets and publicity for installations and new works from world-renowned artists like Nancy Rubins and José Parlá. Ten years later, lookthinkmake continues to be a prominent supporter of Art Alliance Austin, sponsoring events like ARTBASH and Art City Austin, and new additions to the lookthinkmake arts roster include Zilker Theatre Productions and Pease Park's Stickwork installation.
As time went on, public servants and civic groups called upon lookthinkmake's creative services to transform some of Austin's most iconic places. In 2017, Pease Park Conservancy and Barton Springs Conservancy worked with lookthinkmake to redevelop their branding and build awareness with public relations, each kicking off a long-term campaign to raise funds and interest in two of Austin's oldest and most beloved outdoor spaces. With Pease Park Conservancy's enthusiasm for outdoor public art and Barton Springs Conservancy's commitment to preserving the springs' historic bathhouse, lookthinkmake's location-centric philosophy was an easy fit.
In 2018, the agency took a decisive step toward adding tourism to its major strengths, with this fall's ATXLoves campaign, an initiative conceived by lookthinkmake and grant-funded by Austin's City Council. The initiative, which encourages Austin visitors, tourists and residents alike to patronize locally-owned small businesses, is an interactive map and guide to the city. Powered by data aggregated from local "people's choice" awards, ATXLoves provides a comprehensive look at what locals love about their city, championing and ultimately preserving the things that makes Austin the place it is. Outside Austin's city limits, lookthinkmake began marketing for Marble Falls, Texas' tourism industry.
"We always, always had a plan and a guiding idea: Do work that matters and leave a positive wake," said Buchholtz. "With that in mind, you can understand how and why lookthinkmake has done the work it has. We're driven to connect with people and people feel connected to our passion."
###
About lookthinkmake
lookthinkmake is a full-service advertising and public relations agency made up of geeks, artists, business people, teachers, publicists, event planners, writers, and entrepreneurs. We don't work outrageous advertising hours. We do maintain a work-life balance and spend time together outside of work. We could say it's for company culture, or team building, but really it's because we like each other. If there's a common thread at lookthinkmake, it's doing things for the greater good. You'll find no divas or hotshots here—just a talented group collaborating to help our clients grow.