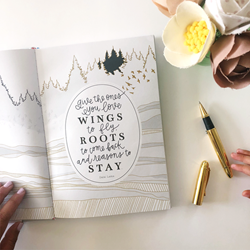 We're excited with the response from our supporters on Kickstarter, who will be the first to enjoy the connection they can achieve with their children through Loom Journals.
SALT LAKE CITY (PRWEB) October 24, 2018
Loom Journals, a modern and timeless heirloom quality journal designed by a team of three mothers to create a mindful parent-child connection through a shared creative writing experience, has raised more than $42,000 on Kickstarter– surpassing its initial campaign goal by six times on the crowdfunding website.
"We're excited with the response from our supporters on Kickstarter, who will be the first to enjoy the connection they can achieve with their children through Loom Journals," said Loom Journals Founder Kim Stoddard. "As parents, what we all really want is to connect deeply with our children, know what's going on inside their hearts and minds and to know how to best guide them. With Loom Journals, parents and children can work through their life experiences together, while discovering things about themselves and each other that they may not learn otherwise."
When her daughter was just six-years-old, Stoddard found herself desiring a deeper connection. What started as an experiment in writing to each other in a "Dollar Store" notebook with easy narrative prompts turned into the foundation for Loom Journals. Stoddard quickly realized how the simple act of writing to each other created space for a more open and meaningful relationship.
Loom Journals are carefully curated to foster that connection. The journal is filled with prompts that start important conversations as well as free-writing pages to allow space for creativity. While many journals exist to document early childhood, none allow for active participation from both parent and child in the way the Loom Journals does.
"The Loom Journal not only captures and preserves memorable moments and details while strengthening the parent-child relationship, it's not time-driven so it allows all users to work through the journal at their own pace," Stoddard said.
Loom Journal Writer Kimberly Christenson says the journal solves one of the greatest challenges faced by parents today: the inability to have genuine, screen-free conversation and connection with their children.
"The Loom Journal achieved our goal to create a tool to help parents build meaningful relationships, while helping them improve their writing and communication skills and develop a high level of emotional intelligence," she said.
Features:

All-in-one journal where parent and child actively participate
Perfect bound so it lays flat when you write
Artisan paper that will last for years to come
Modern, timeless design
Keepsake pocket to hold mementos
Ribbon place-holder to keep your spot
Gold embossed vegan leatherette cover
Mini book of prompts to start conversations inside and outside of the journal
"As we scoured the market for journals, we didn't find any parent-child journals that had the level of design quality we wanted," said Loom Journal Designer Tosha Seeholzer. "Also, they were all catered to girls. The Loom Journal is for a boy or girl of any age. And since our mission is to help you invest in things that last, we made sure our journal is heirloom-quality. We know you'll love this journal and we want you to be able to pass it down for generations to come."
To learn more about Loom Journals or to purchase a journal at early-bird prices, go to the Loom Journals Campaign Page on Kickstarter.
About Loom Journals
Loom Journals is a company dedicated to fostering parent-child connection. We provide tools for parents to bring more intention, joy, and depth to their relationships with their kids.