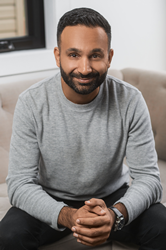 "It feels incredible to be acknowledged for creating an environment where people can truly thrive and grow their careers."-Zak Hemraj
TORONTO (PRWEB) November 25, 2021
Loopio is excited to announce that its Co-founder and CEO, Zak Hemraj, has been named one of Canada's Most Admired CEOs in 2021.
Founded by Waterstone Human Capital, this award recognizes industry-leading CEOs who have achieved significant accomplishments in their career. In particular, it focuses on leaders who have used the power of corporate culture to drive performance and earn admiration from their peers and employees.
The award runs in conjunction with the Canada's Most Admired Corporate Cultures™ program, which Loopio was a winner of in 2020.
"I'm honored to be recognized alongside such incredible Canadian CEOs," says Hemraj. "I believe that Loopio's focus on our employees and culture is what has driven our success. It feels incredible to be acknowledged for creating an environment where people can truly thrive and grow their careers."
"At Waterstone we believe corporate culture drives performance and that it's your organization's greatest asset," says Marty Parker, President and Chief Executive Officer of Waterstone Human Capital and Chair of the Canada's Most Admired™ program. "Each of the 2021 award recipients puts culture at the centre of everything they do, and demonstrates a commitment to culture as a competitive advantage. They set an excellent example of how crafting and sustaining a high performance culture can drive incredible growth and performance."
Zak co-founded Loopio with his close friends, Matt York and Jafar Owainati, in 2014, with one mission in mind: to build a great, enduring company. Since then, Loopio has grown to 200 employees, serving more than 1,000 customers globally. The company has been ranked several times as one of Canada's fastest growing companies by Deloitte's Technology Fast 50™ Awards, and it has a GlassDoor rating of 4.9/5. Loopio raised $9M in Series A funding from OpenView Venture Partners in 2018, and a $200M strategic investment from Sumeru Equity Partners in 2021, to accelerate its growth.
Learn more about Loopio's award-winning company culture and leadership at https://loopio.com/careers/.
About Loopio
Loopio's RFP response software helps companies streamline their response process for RFPs, DDQs, and Security Questionnaires. With Loopio, teams respond faster, improve response quality, and win more business. Serving over 1,000 customers globally, Loopio is the leading, most-loved RFP response solution in the market.
Founded in 2014, Loopio is one of Canada's fastest-growing technology startups. It has ranked twice as one of the fastest-growing companies on the Deloitte Technology Fast 50™ list, and it was also named one of Canada's Top Small & Medium Employers. In 2021, Loopio raised a $200M strategic investment from Sumeru Equity Partners to fuel its next stage of growth. Learn more at loopio.com.
About Waterstone Human Capital
At Waterstone Human Capital, we inspire organizations to build high performance cultures. We're a human capital management consulting firm specializing in retained executive search, cultural measurement and assessment, and leadership training and development. We have successfully helped hundreds of entrepreneurial-minded, high-growth organizations across North America recruit, measure and train for fit. Waterstone is also the founder of the Canada's Most Admired™ Corporate Cultures and Canada's Most Admired™ CEO programs. These national programs annually recognize best-in-class Canadian organizations and CEOs, for fostering cultures that enhance performance and help sustain a competitive advantage.
For more information please visit waterstonehc.com or canadasmostadmired.com