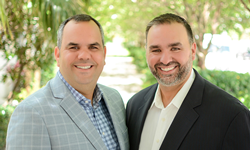 Carlos and I want In Tide Realty to confidently lead in a rapidly evolving industry, especially where technology is concerned
MIAMI (PRWEB) June 04, 2021
Lopez Bros. Real Estate today announced In Tide Realty and its partnership with Side, the only real estate technology company that exclusively partners with high-performing agents, teams, and independent brokerages to transform them into market-leading boutique brands and businesses. The alliance will ensure that In Tide Realty is powered by the industry's most advanced platform.
In Tide Realty serves clients throughout Miami, with a focus on commercial and residential real estate. Raoul Lopez has been an agent since 2008, but prior to that, he'd been a loan officer for 12 years. He has won top awards from some of the nation's largest brokerages. In addition to years of real estate experience, Carlos Lopez brings a background in business, sales, marketing, and management to In Tide Realty's leadership team. As Miami natives, both offer their clients key insights into the local market.
Partnering with Side will ensure In Tide Realty remains on the cutting edge of the evolving real estate market while continuing to deliver premium services to its clients. Side works behind the scenes, supporting In Tide Realty with a one-of-a-kind brokerage platform that includes proprietary technology, transaction management, branding and marketing services, public relations, legal support, lead generation, vendor management, infrastructure solutions, and more. Additionally, In Tide Realty will join an exclusive group of Side partners, tapping into an expansive network from coast to coast.
"Though we have many systems set firmly in place, Carlos and I want In Tide Realty to confidently lead in a rapidly evolving industry, especially where technology is concerned," said Raoul Lopez. "Side makes that possible while also guaranteeing that In Tide can offer its clients the customer service necessary to earn their trust and respect — and transcend their expectations."
Side is led by experienced industry professionals and world-class engineers who develop technology designed to improve agent productivity and enhance the client experience. Based on its belief that homeownership is a fundamental human right, Side is on a mission to improve the public good by providing top-performing real estate agents, teams, and indie brokerages with the best system, support, service, experience, and results.
About In Tide Realty
Since two brothers are behind In Tide Realty, it may not come as a surprise that the team brings a family approach to real estate. Whether clients are looking to purchase, sell, or invest, its mission is to create a comfortable environment while delivering the two most important things: superior service and superior results. In Tide Realty is headquartered in Miami, Florida. To learn more, please visit http://www.intiderealty.com.
About Side
Side transforms high-performing agents, teams, and independent brokerages into successful businesses and boutique brands that are 100% agent-owned. Side exclusively partners with the best agents, empowering them with proprietary technology and a premier support team so they can be more productive, grow their business, and focus on serving their clients. Side is headquartered in San Francisco. For more information, visit http://www.sideinc.com.