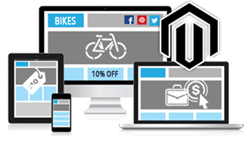 Los Angeles Magento Developer offering Business Intelligence Dashboard Integration
Los Angeles, CA (PRWEB) June 29, 2014
Sales Secret LLC, offering simple options to hire a Los Angeles Magento Developer, is excited to offer Magento integration with a real-time business intelligence dashboard that is custom coded to compile, integrate, segment and visualize every aspect of the sales cycle to decisively reveal strengths, weaknesses, opportunities and threats.
A Business Dashboard provides a simple, yet powerful, way for your whole team to make sense of complex data sets that represent new and/or missed opportunities.
A Business Metic is a measurable data set that can be used to evaluate and fine-tune the performance and profitability of a business and its sales and follow-up cycles.
Key Performance Indicators (KPIs), are quantifiable values that are used in gauging the contribution of business processes to key business objectives.
Custom Integrations Will Combine and Offer Insights from Multiple Channels for Business Intelligence Dashboards which may include:
Magento Executive Dashboards
A Magento Integrated Executive Dashboard explores a variety of difference scenarios of interest to company executives and gives insight into summarization's of Key Performance Indicators.
Magento Sales Dashboards
A Magento Sales Dashboard presents sales staff with real-time ability to capitalize on new opportunities, that may have been otherwise overlooked, and to sell more products than the competition.
Magento Marketing Dashboard
A Magento Marketing Dashboard will allow marketing professionals to more closely monitor and fine-tune all aspects of campaign performance with the end goal of increasing brand recognition, awareness and engagement.
Magento Business Dashboard
A Magento Business Dashboard has the purpose of providing various internal departments with extensive data that can be utilized in the decision making process.
Magento Social Media Dashboard
A Magento Social Media Dashboard shows marketers the connections that most meaningfully impact each aspect of customer interaction leading to more productive use of time.
Magento Email Marketing Dashboard
The Magento Email Marketing Dashboard will display key metics that visualize the performance and ROI of your email campaigns, and includes pertinent metrics like open and click rates, leads generated, and list growth.
Through planning, efficient coding, relentless implementation, and data analysis, we have been changing the face of e-marketing, stated Robert Hadland, Sales Secret LLC representative. Now with this Business Intelligence Dashboard Integration, the game has been taken to an entirely different level customers and retailers completing smoother transactions that exceed both of their expectations.
Sales Secret offers their prospective customers six ways to ignite their sales:

Segment marketing efforts
Optimize for mobile engagement
Build relationships with customers
Localize whenever possible
Act on analytics and available metrics
Cultivate useful loyalty programs
Utilizing tools such as Magento e-commerce website development, custom Magento extension development, and SEO, Sales Secret has been serving their customers marketing and development needs to increase their sales and profitability.
For more information, visit http://www.salessecret.com/california/los-angeles-magento-developer.html or call 888 553-9113.