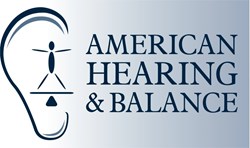 Roughly 25 million Americans have experienced tinnitus.
Los Angeles, CA (PRWEB) July 17, 2013
Los Angeles-based American Hearing & Balance is pleased to announce that it has revised the tinnitus information page on its website with new tinnitus treatments and therapies. Tinnitus (commonly known as ringing-in-the-ears) is a symptom associated with many forms of hearing loss, but it can also be a symptom of other health problems. Roughly 25 million Americans have experienced tinnitus and people with severe cases of tinnitus may find it difficult to hear, work, or even sleep. To date, there has been no effective tinnitus treatment that works in all cases. Therefore audiologists are trained to evaluate each tinnitus sufferer's unique situation and to recommend tinnitus therapies based on their findings. There is a lot of research happening in the field of tinnitus cures offering several new therapy options.
American Hearing & Balance offers the following tinnitus treatments in Los Angeles and at its other LA-area locations:
1) Hearing aids
2) Maskers
3) Medicine or drug therapy
4) Neuromonics Tinnitus Therapy
5) Counseling and Relaxing
For more information visit the company website or view the hearing aid testimonials on the company's YouTube channel.
About Dr. Keith Michaels
Dr. Keith Michaels, Doctor of Audiology and Hearing Instrument Specialist at American Hearing & Balance, received his Masters Degree from California State University, Los Angeles and his Doctorate in Audiology at Florida University. Dr. Michaels has helped fit thousands of people with hearing aids and loves to work with people who have problems with their balance and/or vertigo.
About American Hearing & Balance:
American Hearing & Balance is a family owned business providing superior hearing healthcare services in Los Angeles and surrounding communities with seven offices in Los Angeles, Manhattan Beach, Santa Monica, Marina del Rey, Westchester, Torrance and Glendale. They offer a full range of diagnostic and preventative hearing healthcare professional services, including hearing tests, hearing aid sales, and rehabilitative and counseling services for those with hearing loss. Additionally, American Hearing & Balance stocks all the most common hearing aid accessories including cleaning supplies, hearing aid batteries and cell phone adapters. American Hearing & Balance is dedicated to keeping abreast of the latest improvements and technological advancements in the hearing industry and is committed to offering the most current options to patients.
Contact:
Dr. Keith Michaels
http://americanhearingbalance.com
American Hearing & Balance
3875 Wilshire Blvd, Suite 302
Los Angeles, CA 90010
(213) 536-4543
American Hearing & Balance
2809 North Sepulveda Boulevard
Manhattan Beach, CA 90266
(310) 803-9700
American Hearing & Balance
1318 2nd Street, Suite 1
Santa Monica, CA 90401
(310) 773-3972
American Hearing & Balance
4640 Admiralty Way, Suite 1020
Marina del Rey, CA 90292
(310) 773-4453
American Hearing & Balance
6229 West 87th Street
Westchester, CA 90045
(310) 803-9848
American Hearing & Balance
20911 Earl Street, #470
Torrance, CA 90503
(310) 803-9501
American Hearing & Balance
633 North Central Avenue
Glendale, CA 91203
(818) 396-8161