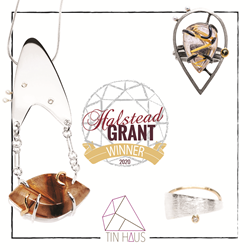 PRESCOTT, Ariz. (PRWEB) October 01, 2020
Christina Fandino, founder of Los Angeles based TIN HAUS, has won the 2020 Halstead Grant for new jewelry businesses. Christina receives a $7,500 cash grant, $1,000 in jewelry supplies, a trip to Prescott, Arizona, features in Halstead print publications, a detailed feedback report from the judging committee, and a signature trophy.
Grant founder and Halstead President, Hilary Halstead Scott said, "Christina nailed it. She represents the best of both jewelry collection artistry and strategic planning." Halstead Scott noted Tin Haus was a Grant finalist in 2018 that made significant progress in the last two years. "It's exciting to see participants leverage the grant experience into business results. This program is about so much more than winning an award."
In 2016, TIN HAUS began while Christina enrolled in the BFA metals program at CSU to deepen her understanding of the arts. She earned a scholarship to attend the Gemological Institute of America in Carlsbad, where she received the Graduate Jeweler diploma.
Christina said, "Winning the Halstead Grant is a dream come true! I believe this honor will have a significant impact on my career as a jewelry designer and will help strengthen my company's foundation in the jewelry industry for many years to come!"
Designs by TIN HAUS are inspired by abstract art, nature, ancient cultures, social cause, and the spirit of everyday people. All pieces are hand crafted in Christina's Los Angeles studio using traditional jewelry and metal fabrication techniques. Her designs are bold-minimalistic statements for self-expression.
Christina is committed to sustainable and responsible sourcing for her jewelry. Her pieces incorporate recycled gold as well as both fine and sterling silver. TIN HAUS jewelry is available online at tin-haus.com as well as at local Galerie LA on S. Alameda St. in LA. Price points start at about $50.
TIN HAUS is involved in many initiatives such as the Make-A-Film Foundation, Animal Welfare Institute, Black Lives Matter, and the Lebanese Red Cross. Christina's designs have been featured in magazines such as Vogue and Vanity Fair, while her "Feel the Bern" necklace caught the attention of Jane Sanders.
The Halstead Grant began in 2006 to bring the business plan concept to the jewelry community. It provides resources for creative entrepreneurs to establish clear goals and measurable steps toward self-sufficiency. The application requires more than jewelry portfolio photos. Questions cover a business plan including marketing, competitive analysis, finances, and production capacity.