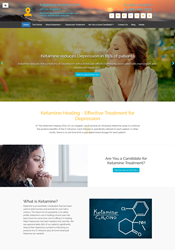 Patients should know not all ketamine infusions are similar, & choosing the right Ketamine clinic is just as important as deciding to proceed with Ketamine. Patients come from across the nation & internationally to receive this treatment for chronic pain & CRPS sufferers, says Dr. Mahjoubi.
LOS ANGELES (PRWEB) November 08, 2018
Dr. David Mahjoubi, a pioneer of intravenous and nasal Ketamine for the treatment of Chronic Pain and Major Depression, is pleased to announce a new treatment program for chronic pain conditions, including Complex Regional Pain Syndrome (CRPS) and Regional Sympathetic Disorder (RSD). The 4-day treatment program relies on the combination of Ketamine with three other medications that block pain receptors. Dr. Mahjoubi formulated this infusion package and is the only physician to offer this unique treatment regimen for CRPS/RSD and Chronic Pain sufferers.
"It's important for patients to know that not all ketamine infusions are similar, and that choosing the right Ketamine clinic is just as important as deciding to proceed with Ketamine. Our patients come from across the nation and internationally to receive this unique and effective treatment protocol that is customized for chronic pain and CRPS sufferers," says Dr. Mahjoubi.
Dr. David Mahjoubi is a highly skilled and experienced Board-Certified Anesthesiologist who focuses his practice solely on helping patients find relief from chronic pain and depression using a safe medication called Ketamine. Ketamine IV infusion therapy represents a convenient and effective solution to reduce or eliminate symptoms of chronic pain while avoiding opioid reliance. Dr. Mahjoubi brings elite knowledge of Ketamine use and tailors his treatment packages to meet the specific needs of each patient.
When undergoing Dr. Mahjoubi's unique infusion for chronic pain, patients report feeling significantly better immediately after the conclusion of just one of the four treatments. Complex Regional Pain Syndrome is a condition that can result in disruptive and even debilitating nerve pain symptoms. Dr. Mahjoubi's ketamine treatment program not only offers quick pain relief, but it also helps patients avoid the negative side effects of narcotic pain medications or the intrusive nature of surgery or other treatments that are often used for treating CRPS and other types of chronic pain- many of which are ineffective.
More About Dr. David Mahjoubi of Ketamine Healing Clinic of Los Angeles:
David Mahjoubi, MD is a Diplomate of the American Board of Anesthesiology. He earned his Doctor of Medicine at The Chicago Medical School. Dr. Mahjoubi carries over a decade of experience with intravenous Ketamine, beginning from his residency training at the University of Southern California (USC) + Los Angeles County Medical Center. He is the author of multiple publications in the medical field and holds high honors from his educational years. Following his residency, Dr. Mahjoubi joined the Anesthesia Group at Northridge Hospital Medical Center and became the most active user of IV Ketamine for both conscious sedation and general anesthesia cases. After working at surgical centers throughout Southern California, he quickly noted the beneficial mental health effects of IV Ketamine in many patients post-procedurally. Ketamine Healing Clinic of Los Angeles was thus founded, and now provides a highly effective treatment for patients with treatment-resistant depression and chronic pain.
Ketamine Healing Clinic of Los Angeles is located at 1964 Westwood Boulevard in Los Angeles, California 90025. The clinic offers Ketamine therapy for a full menu of conditions, ranging from Depression and Alcoholism to OCD, Anxiety, PTSD and many chronic pain disorders. In addition, Dr. Mahjoubi is one of the only physicians in the country to offer a Ketamine at-home nasal spray as a convenient supplementary therapy to help maintain and extend the benefits of IV Ketamine infusions.
To learn more about Dr. Mahjoubi's treatment protocol for CRPS/RSD, please contact the Los Angeles office at (866) 987-7874, or email him at DrDavidM@ketaminehealing.com. You may also visit the website at http://www.ketaminehealing.com.