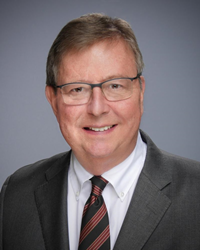 Curry was named for a second time to the list, which contains a Who's Who of corporate and business icons in Los Angeles including Jeff Bezos, Elon Musk, Lebron James, Steven Spielberg and Oprah Winfrey, among others.
COVINA, Calif. (PRWEB) August 06, 2020
Emanate Health President & CEO Robert H. Curry, who oversees the largest health care system in the San Gabriel Valley, has been named by the Los Angeles Business Journal to the LA500 List honoring the most influential corporate and business leaders in Los Angeles.
Curry, who has served in his current role at Emanate Health for 12 years, was named for a second time to the list, which contains a Who's Who of corporate and business icons in Los Angeles. The list includes Los Angeles Mayor Eric Garcetti; Earvin Johnson, Magic Johnson Foundation; Jeff Bezos, Amazon.com, Inc.; Elon Musk, Tesla Motors, Inc; Lebron James, Los Angeles Lakers; Steven Spielberg, Amblin Partners; and Oprah Winfrey, Oprah Winfrey Network, among others.
The LABJ's citation in the LA500 edition notes that Emanate Health, under Curry's watch, won approval for a 580,000-square-foot expansion of Queen of the Valley Hospital, which includes a 60-bed emergency department and a 24-bed intensive-care unit. In addition, since he took the helm, the health system's bond rating has climbed from BB+ Negative to A+ Stable.
"Rob's leadership has been invaluable in guiding Emanate Health during the pandemic to ensure our financial stability, preserve staff positions, treat those with and without COVID-19, and inspire confidence that everything that could be done is being done to bring our communities back to good health," said Gary Mathewson, Chair, Emanate Health Board of Directors.
Curry has held executive positions with hospital systems in Arizona, Ohio and Pennsylvania, comes to Emanate Health from O'Connor Hospital in San Jose. Curry is a fellow in the American College of Healthcare Executives and has been involved with several philanthropic organizations including the American Heart Association, United Way and the YMCA.
"I'm blessed and humbled to be included on the LA500 list of corporate and business giants in Los Angeles," Curry said. "I see this recognition as a tribute to the men and women of Emanate Health who every day live and breathe our mission and values to provide a caring, safe and compassionate environment for our patients in the San Gabriel Valley. It's really not about me, but truly about our staff's contributions to the quality of life in our communities."
Curry holds a Bachelor of Arts in Economics and a Master's in Public Health Administration, both from the University of Pittsburgh.
About Emanate Health
Emanate Health is the largest nonprofit health care provider serving the one million residents of the San Gabriel Valley in California. The system provides specialized care in Behavioral Health, Cancer, Cardiovascular, Emergency, Neuroscience and Stroke, Orthopedics, Sports Medicine, and Women's Health. Its family of hospitals and hospice include Emanate Health Inter-Community in Covina, Emanate Health Queen of the Valley in West Covina, Emanate Health Foothill Presbyterian in Glendora, Emanate Health Hospice and Home Care in West Covina, as well as other clinics throughout the region. Year after year the health care system has been voted "Best Hospital" and "Best Place to Work" and providers are consistently among the "Top Doctors" in Los Angeles County and hospitals are graded A for Patient Safety by The Leapfrog Group. Visit emanatehealth.org, our Newsroom and connect with us on LinkedIn │Twitter│ Instagram │ Facebook.