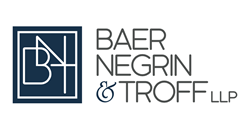 "Both Negrin LLP and Baer & Troff, LLP share a clear alignment of values, vision and work ethic, so a merger just made sense. We have a great synergy, mutual respect and compatible practice areas." - Matthew Negrin
LOS ANGELES (PRWEB) May 08, 2019
The law firms of Negrin LLP and Baer & Troff, LLP proudly announce that they have merged to form Baer, Negrin & Troff, LLP, effective March 01, 2019; they will continue to serve their clients with an even wider range of expertise.
When asked about the merger, Partner Matthew Negrin said, "Both Negrin LLP and Baer & Troff, LLP share a clear alignment of values, vision and work ethic, so a merger just made sense. Because we've collaborated in the past, it was obvious that our firms would work very well together; we have a great synergy, mutual respect and compatible practice areas."
ABOUT NEGRIN LLP
Negrin LLP was formed by husband and wife team, Matthew Negrin and Carolyn Negrin, who are both attorneys and CPA's. Their background allows them to provide legal solutions from a business perspective.
ABOUT BAER & TROFF, LLP
Baer and Troff, LLP was formed by the partners of major law firms, James Baer and Eric Troff, with the intention of providing high quality legal services to existing, emerging, and mid-market companies, without the large law firm rates.
James Baer, founding partner of Baer & Troff, LLP, and the managing partner of the newly formed Baer, Negrin & Troff, LLP, said, "We saw an opportunity to expand our litigation practice by adding an excellent practice group led by Matthew Negrin."
ABOUT BAER, NEGRIN & TROFF, LLP
Baer, Negrin & Troff, LLP, a full-service boutique law firm based in Los Angeles, boasts exceptional "big law" representation without the exorbitant "big law" fees. Baer, Negrin & Troff, LLP offers all of its clients – local, regional and national in both the private and public sectors – an unrivaled level of personal attention and service.
Baer, Negrin & Troff, LLP's corporate practice includes, among other areas, mergers and acquisitions, restructuring transactions, corporate securities issues, venture capital and other financing transactions, joint ventures, licensing, and corporate formation and governance. Its litigation practice encompasses all areas of state and federal litigation, including arbitration, mediation, and appellate work. Baer, Negrin & Troff, LLP specializes in areas of legal malpractice, business, entertainment, real estate and securities litigation.
In addition to its transactional and litigation practice, Baer, Negrin & Troff, LLP also provides restructuring and special situations services; the firm represents debtors, trustees, assignees and creditors in corporate restructuring and reorganization matters, including but not limited to assignments for the benefit of creditors and Ch 11 bankruptcy.
The firm address, which will remain the same, is:
Baer, Negrin & Troff, LLP
12400 Wilshire Blvd. Suite 1180
Los Angeles, California 90025
The website address is: http://www.btllp.com
For more information, please contact:
Lilibeth Bautista
Office Manager
Baer, Negrin & Troff, LLP
(310) 820-9990
beth(at)btllp.com