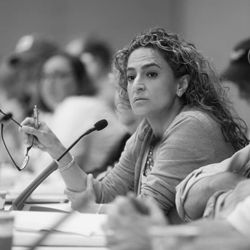 As a "double" certified specialist, Nikki Mehrpoo Jacobson represents the pinnacle of what our profession should be.
LOS ANGELES (PRWEB) November 06, 2018
Los Angeles attorney Nikki Mehrpoo Jacobson has achieved dual certification by the California State Bar Board of Legal Specialization as a legal specialist in Workers' Compensation and Immigration & Nationality Law. This achievement makes attorney Jacobson the only lawyer with this dual certification in the state of California.
The Certified Legal Specialist designation is a prestigious honor granted by the country's first legal certification program. Such dual certification is unprecedented, as no other lawyer has been recognized as a dual-certified legal specialist in Workers' Compensation and Immigration Law by the California State Bar Board of Legal Specialization since records have been kept for dual certification.
"From the first day Nikki Mehrpoo Jacobson walked into my Los Angeles courtroom over 20 years ago, I knew she was a truly exceptional lawyer and I congratulate her for her unmatched extraordinary achievement of double certification in Immigration & Workers' Compensation Law." U.S. Immigration Judge Bruce J. Einhorn (retired) said. "Knowing her, I am not at all surprised and I am proud to call her a colleague and friend."
"Her litigation skills and enthusiasm in immigration court were remarkably above the lawyers before me in my court at the Executive Office for Immigration Review." Einhorn added. "She is an attorney of high integrity, intellect and ethical standards who continues to be a dedicated and zealous advocate for immigrants from all over the world."
Ms. Jacobson is a nationally and internationally recognized speaker, legal analyst, media commentator, expert witness, lobbyist and legal consultant in immigration and workers' compensation law. She regularly shares her valuable insight in France on France 5, in Iran on KIRN 670 AM, and in Denmark on Ekstra Bladet, as well as Business Insurance, WCAuthority.com and WorkersCompensation.com, analyzing high-profile cases, court decisions and legal issues. She currently represents clients assisting the Department of Homeland Security and the Federal Bureau of Investigations with matters of national security.
"I have had the pleasure of working with Ms. Jacobson at both the local and state level for the California Applicants' Attorneys Association." Past CAAA President Lawrence I. Stern, a Certified Workers' Compensation Specialist, of Mallery & Stern, A Professional Corporation said. "Her commitment to her clients and the law is evident."
"She has displayed what is missing in most lawyers- a "zeal" to provide representation to those who are most vulnerable, the injured worker and those seeking a better life here in the United States. She is devoted to her clients and to the practice." added Stern. "Her methods of dealing with difficult issues are to be admired by all. In an era where "words" are used and "promises" made, I can honestly say Ms. Jacobson's word is "her bond" and one does not need more from her. As a "double" certified specialist, she represents the pinnacle of what our profession should be."
As a dual-certified specialist, attorney Jacobson is uniquely qualified to handle catastrophic orthopedic and neurological work-injury cases, and complex employment and family-based immigration matters. She has developed a special niche in the cases where her clients' immigration status and employment matters intersect. For example, these cases can involve workers who are victims of a crime at work, or who are undocumented and have suffered work injuries.
Ms. Jacobson is a Commissioner on the California State Bar Workers' Compensation Law Advisory Commission, on the Board of Directors for the California Applicants' Attorneys Association (CAAA) and an active member of the American Immigration Lawyer's Association (AILA). Ms. Jacobson is also Professor of Law at West Los Angeles College, published academic, and a distinguished lecturer on the rights of injured workers and immigrants. Attorney Jacobson is an editor and contributing author of several legal publications, including Navigating The Fundamentals of Immigration Law (2016–17 Ed.) and Immigration Practice Toolbox, Third and Fourth Editions.
"Ms. Jacobson is a valued member of the faculty at West Los Angeles College, and we are so very fortunate to have a legal professional of her caliber teaching and mentoring students. The dual certification that she has received will bring even more relevance and value to our students' educational experience." James M. Limbaugh, Ph.D., President, West Los Angeles College said.
As a refugee from Iran, she understands the issues and hardships her clients face every day. Ms. Jacobson is committed to giving voice to the voiceless and to insure that people are heard. She is a dedicated LGBTQ ally and is committed to representing members of the LGBTQ community with their asylum claims.
Her adherence to legal ethics and superior skills has earned her the highest rating of AV Preeminent* from Martindale-Hubbell. In 2015 through 2019, she has been designated a "Top Rated Immigration and Workers' Compensation Attorney in Los Angeles" by Super Lawyer and in 2009 through 2012 she was named Super Lawyers' Southern California Rising Star, an honor bestowed on attorneys in California who excel in the practice of law. She is also rated "Superb" by AVVO.
Ms. Jacobson can be contacted for a consultation via her website for any Immigration or Workers' Compensation matter.
Advocate | Attorney at Law | Certified Specialist | Professor of Law | Expert Witness | Legal Analyst | Author | Speaker | Media Commentator | Legal Consultant | LGBTQ Ally ​| #AskNikkiNow | @AskNikkiNow