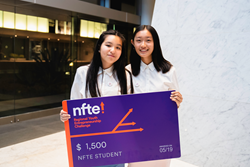 LOS ANGELES (PRWEB) May 30, 2019
Three young entrepreneurs from area high schools won top honors in the NFTE (Network For Teaching Entrepreneurship) Los Angeles Metro Youth Entrepreneurship Challenge held at Ray Kurtzman Theater at CAA on May 22.
The students pitched their business ideas to a panel of expert judges, competing for cash prizes and a free trip to New York City this fall to represent the greater Los Angeles region in the next round of nationwide competition. The first and second place winners at the Los Angeles regional finals now advance to the quarterfinal rounds in the NFTE National Youth Entrepreneurship Challenge, where they'll go head-to-head with other top young entrepreneurs from across the U.S., competing for seed capital to grow their businesses or pursue educational goals.
The results of the Los Angeles Metro regional finals:

Sunny Huang and Faye Nguyen, eighth graders from Nightingale Middle School, won first place with their business pitch for Eco Soap, biodegradable luxury soap/shampoo pods.
Naije'e Hanley, an 11th grader at Foshay Learning Center placed second with a pitch for Big Gurls Move, a clothing and dancewear line for curvy girls.
William Thomas of Environmental Charter High School took third place with his pitch for Crown Rags, uniquely designed and affordable durags that challenge a monopolized market.
Student business pitches were judged by a panel of experts including:

Dulari Amin, Co-Founder of Synergy Ventures
Erik Huberman, Founder & CEO of Hawke Media
Nick Melvoin, Vice President of LAUSD Board of Education
Susan Sarich, Founder of Susie Cakes
Shamin Walsh, Managing Director of BAM Ventures
Three special awards were presented during the evening event:

Brandie Cobb-Davis from Environmental Charter High School was awarded the Los Angeles Metro Model Teacher Challenge Award. She will advance to the national finals in NFTE's Model Teacher Challenge this July.
Ernst & Young, LLP (EY) was honored with the NFTE Los Angeles Metro Corporate Volunteer of the Year Award.
Nick Hare and Heather Wetzler from Cue Careers were honored with NFTE Los Angeles Metro Individual Volunteer of the Year Awards.
The NFTE Los Angeles Metro Youth Entrepreneurship Challenge was presented by Citi Foundation, EY and Microsoft with additional support from Capital Group and Comerica Bank.
The evening event was emceed by NFTE alumna Kelsey Johnson, the founder of Kinky Kaps and the 2018 National Youth Entrepreneurship Challenge grand prize winner. The guest speaker was Payal Kadakia, Founder and Executive Chairman of ClassPass, a monthly membership program that provides people of all fitness levels access to the best boutique fitness classes and gyms across the US and internationally.
About NFTE
NFTE is the leading educational nonprofit focused on teaching startup skills and activating the entrepreneurial mindset in young people from under-resourced communities. Research shows the entrepreneurial mindset—skills including problem-solving, adaptability, initiative, and self-reliance—leads to lifelong success. Equipped with the business and academic skills NFTE teaches and empowered by the entrepreneurial mindset, NFTE alumni are prepared to thrive. NFTE works with schools and community partners across the country through its nationwide network of program offices. Alliances with global youth development organizations bring NFTE programs to additional students internationally. NFTE reaches more than 100,000 young people annually and has served well over a million students since its founding. Learn more at http://www.nfte.com.
Media Contact
Ashley Johnson
mediainquiries(at)nfte.com
(212) 232-3333