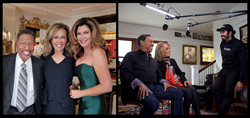 LOS ANGELES (PRWEB) October 25, 2021
LATM, Los Angeles' pioneering non-profit organization guiding middle school students from challenging urban neighborhoods to reach their full potential and develop their leadership skills, will celebrate its 29th Anniversary Celebration on October 28th. Soiree "Decades of Dreams," a virtual event this year in observance of safety and social distancing protocols, will take place from 6:30 p.m. – 8:00 p.m. and streamed at bidpal.net/soiree.
Soiree's "Decades of Dreams" will honor music icons and human rights activists Marilyn McCoo & Billy Davis Jr., JP Morgan Chase, and will feature appearances by Kathy Ireland, Gabrielle Carteris and Miss United States 2020 Tiffany Rea.
Marilyn McCoo & Billy Davis Jr. are 7-time Grammy winning couple who have broken racial barriers in the entertainment industry since the start of their careers, including being the first African-American married couple to host their own network variety show. Marilyn & Billy, who earlier this year were named among the Top Ten Artists in 2021 by Music Observer, released this year their first studio album in three decades, "blackbird: Lennon-McCartney Icons" -- the only human rights and freedom, including religious freedom, recording project in 2021. The album hit the #1 spot on the Current Album Chart, with the music becoming an internet and media sensation, garnering praise from Questlove, Ms. Whitfield, Kareem Abdul-Jabbar, Vanessa Williams, Clive Davis, Shemar Moore, Dolly Parton, Anita Baker, The Pointer Sisters star Anita Pointer, Jimmy Jam & Terry Lewis, Elle Macpherson, as well as fellow original 5th Dimension members Florence LaRue and Lamonte McLemore.
This Summer, Marilyn & Billy starred in Questlove's directorial debut, "Summer of Soul (...Or, when the Revolution Could Not Be Televised)," a documentary on the Harlem Cultural Festival which premiered at this year's Sundance Film Festival, winning the Grand Jury Prize and Audience Award and breaking festival records.
This Christmas season, Marilyn & Billy make a special guest appearance in "The Waltons' Homecoming," executive produced by Emmy-winning luminary and former Chairman of the Academy of Arts & Sciences Hall of Fame Selection Committee, Sam Haskell of Magnolia Hill Productions at Warner Bros., on The CW network. The couple also lent their talents to the accompanying "The Waltons' Homecoming" Christmas album for Warner Bros.' imprint, Watertower Records. Marilyn & Billy's vocals were produced by Nic Mendoza.
Continuing to break barriers, this year Marilyn & Billy became the first African-American couple to receive a second honor on the Hollywood Walk of Fame. In addition, they recently made history by becoming the most mature married couple to ever receive a long-term recording contract.
Entrepreneur and Philanthropist Kathy Ireland, a past recipient of the "Dream Big" Award will present the honor to McCoo & Davis. Ireland is Chair & CEO of the recording and multimedia production entity EE1 which released the couple's recent #1 album and which signed the icons to a multi-year recording contract.
This year's Soiree will also honor financial giant JP Morgan Chase Inc. for their long-term support and corporate volunteerism efforts to supply mentors to LATM. Accepting the award on the company's behalf is Alice Rodriguez, Managing Director, Head of Community Impact at JPMorgan Chase & Co. Alice has over 30 years of extensive banking experience with JPMorgan Chase and its predecessors. Alice leads the Path Forward Initiative, a $30B commitment to advancing racial equity.  A lifelong commitment to minority-driven causes has earned her numerous board appointments and accolades including her current role as Chairwoman of the United States Hispanic Chamber of Commerce.
The evening will include a special guest appearance by actress, activist and former SAG-AFTRA President, Gabrielle Carteris. Carteris helped launch a franchise in her best known role as the beloved Andrea Zuckerman on Beverly Hills, 90210, and continued her decades-long career cast in such  notable, blockbuster series as Another World, Touched by an Angel, King of the Hill, NYPD Blue, JAG, Criminal Minds, and N.C.I.S., among others. Gabrielle served 3 terms as the President of the Screen Actors Guild - American and Federation of Television and Radio Artists from 2016-2021.  As president, she was passionate about mentoring and led programs enabling SAG-AFTRA members to inspire youth and help shape the Next Generation of Storytellers through their Volunteerism and Service. 
Tiffany Rea is the reigning Miss United States 2020, and is dedicated to promoting volunteerism through mentorship.  Tiffany has provided over 1,400 hours of service to the community, and received two Gold Status President's Volunteer Service awards, among others. Her passion and efforts for promoting volunteerism began through the creation of a non-profit group called "Caring Crowns" and her efforts expanded to support organizations focused on veterans, foster care, police and fire departments, among others. For many years, her motto has been "Mentoring Matters," because she truly believes when someone has a positive influence in their life, they can be inspired to achieve their dreams.
"What began in the early 90's has continued through a new millennium, and here we are in 2021, with LATM still finding new ways to encourage leadership, inclusion and the social emotional skills to help kids dream big! Our theme this year is Decades of Dreams—where we'll honor our past and look toward the future—as we continue creating brighter futures for today's youth and paving the way for kids to not only dream big, but to have the tools, confidence and opportunity to achieve those dreams," says Maria Melton, LATM's Executive Director.
In 1992, LATM launched its first after-school mentoring program at Horace Mann Middle School, located in South Los Angeles. Its team-based mentoring model, developed by the Princeton Center for Leadership, was instituted to train and encourage that leadership, the benefits of which have long been helping to modify the effects of gang activity, violence, poverty and high drop-out rates of young people.  Since its inception, the organization has impacted the lives of over 28,000 young people through 2.7 million hours of after school mentoring. The organization focuses on the critical non-school hours – after-school, weekends and summers – to ensure that students have a safe and structured programming and access to trusted adult role models.  Youth enroll in LATM's program in 6th, 7th and 8th grade. 
Although LATM does not provide tutoring, students in the program not only earn higher grades—but go on 4 years later to graduate at a 22% higher rate—in spite of 29% of those same students coming from homes where neither parent has graduated from high school.  In addition, 100% of LATM youth have increased self-esteem—giving them the critical foundation they need to dream big and succeed at all things in life.
"Soiree is our annual celebration and we have so much to celebrate as LATM enters its 30th year of providing life changing mentoring programs to tens of thousands of deserving youth throughout Los Angeles! Last year was filled with challenges, but LATM continued to dream big, creating our first virtual program to ensure our youth would continue to have that mentoring lifeline during a time when they needed us most. Our groundbreaking virtual platform e-Works has proven to be incredibly effective just one year into its launch. So be sure to join us on October 28th so you can hear first-hand from some of our amazing mentees how impactful LATM's Team Works and E-Works programs has been to them," says William Figueroa, LATM's Director of Programs.
LATM's e-mentoring model is a virtual team-based approach to mentoring. Utilizing an interactive curriculum and an online platform, the program is designed to build students social emotional learning skills. Teams are comprised of 3-4 adult mentors and 12-15 youth connecting weekly via email and video conferencing. The program is a weekly 1-hour commitment on a scheduled day and time. There are also three Saturday virtual field trips and workshops. This program runs from the end of September 2021 to June 2022.
LATM's annual Soiree is the organization's signature fundraising event, which ensures over 330 volunteer mentors are able to provide critical mentoring services to over 1,300 at-risk youth for an entire school year.  The event sells out each year through sponsorships and support of dedicated organizations.  This year's sponsors and partners include Live Nation, TPG Real Estate, JPMorgan Chase & Co., Latham & Watkins, Keenan, EY, IMAX, Bank of America, and EVOKE Wealth Advisors, among others.
ABOUT LOS ANGELES TEAM MENTORING:
LATM's core team mentoring model, TeamWorks, includes a team of three mentors consisting of a teacher, a college student, and a community/business volunteer that utilize an activity-based curriculum enabling students to develop social emotional skills and resiliency.  In addition, LATM conducts Summer Leadership Camp whose goal is to give students the college knowledge needed to become competitive applicants. The LATM program is now available in several locations across Los Angeles:
Wilmington Middle School in Wilmington • Bethune Middle School in South LA • John Burroughs Middle School in Mid-Wilshire • Luther Burbank Middle School in Highland Park • Peary Middle School in Gardena • Johnnie Cochran Middle School in Mid-City • Webster Middle School in West LA • Edison Middle School in South LA • Pacoima Middle School in the San Fernando Valley • Richard Merkin Middle School in Downtown LA/Pico-Union • Green Dot Public Schools in South and East LA
For more information, please visit http://www.latm.org