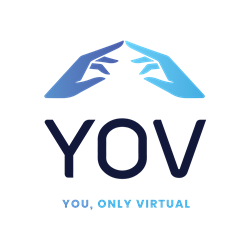 YOV's patented technology positions You, Only Virtual as a pioneer and innovator in the meaningful use of AR for posthumous communications.
LOS ANGELES (PRWEB) March 10, 2021
You, Only Virtual, Inc. (YOV), the Los Angeles-based tech startup innovating in afterlife communications, has been granted a U.S. patent for augmented reality persona simulation—positioning YOV as a pioneer in the meaningful use of AR for posthumous communications.
"I cannot say how thrilled we are to have received a fully granted patent in under a year," says Justin Harrison—founder and CEO of YOV. "I think it speaks to the ingenuity and diligence of our amazing team—who were able to clearly delineate what we are building and how this technology will be used in the future."
The AR System for Persona Simulation patent is a first-of-its kind patent that allows an individual and a virtual persona to revisit and interact seamlessly at a location where they visited together when both were alive. This technology is the cornerstone of augmented reality simulation for anyone seeking to revisit a shared experience at a specific location. One's virtual persona can instantly access data that allows it to recall images, conversations and video shared at that location at an earlier time—making the interaction authentic and realistic.
Imagine a couple visiting their favorite restaurant—as a widow alongside her beloved husband's virtual persona. He would be able to have a very realistic conversation with his widow based on his ability to access an innumerable amount of data within seconds.
"The uses of our technology are essentially endless. I am very excited about what the future holds," Harrison states.
With the granting of its most recent patent, YOV now has over 19 ½ years of patent and patent-pending IP protection—offering it a significant head start in the persona simulation category. YOV is the only company creating unique, personality-based personas derived from actual, permission-based communication between two individuals over time— designed to offer one a sense of comfort and connection.
About YOV
Based in Los Angeles, California, You, Only Virtual, Inc. (YOV) is a digital platform that recognizes the unique bonds between loved ones and enables authentic, posthumous one-on-one communications. YOV utilizes proprietary, fully patented technology— powered by interaction-centric machine learning algorithms— to analyze both real-time and archived message threads in order to build virtual personas that are virtually as complex and contextually-sensitive as the individuals they emulate. Virtual personas are seamlessly introduced in existing messaging channels, enabling uninterrupted connection to a loved one after they have passed. To learn more, or to join the YOV beta, visit http://www.WhatisYOV.com. For media inquiries, please contact Anita S. Lane at AnitaSLane@SenseiCommunications.com or 313.447.9083.