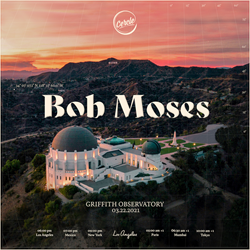 LOS ANGELES (PRWEB) March 18, 2021
Los Angeles is starting its comeback, having moved to the state's less restrictive red tier which allows the safe reopening of museums, indoor dining, theme parks and outdoor live events including spectator sports, with appropriate capacity controls and safety protocols. Now, the Los Angeles Tourism & Convention Board is inspiring lovers of L.A. to start their comeback, whenever they are ready, in a new partnership certain to stir wanderlust. To keep Los Angeles top of mind with visitors sonically and visually, Los Angeles Tourism has partnered with Cercle, known for their jaw-dropping musical livestreams from UNESCO World Heritage sites and other cultural icons across the globe. L.A.-based, Grammy-winning electronic duo Bob Moses will perform a livestream, sunset set from the iconic Griffith Observatory on Monday, March 22, beginning at 6:00 p.m. PST. While there will be no audience present, the show is viewable on screens worldwide via Cercle's Facebook Live, Twitch and Oculus.
The collaboration kicks off Los Angeles Tourism's new multi-month, phased effort to inspire visitors to #StartYourComeback. To help plan a future vacation, Los Angeles Tourism has aggregated more than 100 special offers from hotels, restaurants and more, available at discoverlosangeles.com/comeback.
"Through our partnership with Cercle, we're inviting people to come back to a sense of wonder, to come back to a spirit of possibility. We have the opportunity to inspire with a dazzling magic hour, our iconic Griffith Observatory and the twinkling lights of the city's skyline, all the while reminding visitors that L.A. is starting its comeback and we look forward to welcoming them back to L.A., when they are ready," said Don Skeoch, Los Angeles Tourism's Chief Marketing Officer.
"We call Los Angeles home, and we're honored to bring L.A. to the world through this partnership with Cercle, which allows us to perform at the iconic Griffith Observatory during sunset. We're ready for a magical show," stated Tom Howie and Jimmy Vallance of Bob Moses.
Derek Barbolla, Founder and CEO of Cercle added, "We've dreamt of hosting a show in Los Angeles at the Griffith Observatory for years now, and it's incredibly special that this will soon become a reality. We know our fans will love seeing L.A. through our lens and will want to get back to L.A. – or discover it for the first time – after the show. We're happy to safely bring a taste of the city to Cercle fans around the world."
To learn more, visit @discoverla on Twitter, Instagram or Facebook. Visitors are encouraged to #TravelResponsibly and follow all guidance from Los Angeles County Public Health.
ABOUT LOS ANGELES & LOS ANGELES TOURISM
Los Angeles Tourism & Convention Board (Los Angeles Tourism) is the non-profit destination marketing and sales organization for the Los Angeles tourism industry and the ultimate resource for where to stay and play in the L.A. area.
Los Angeles is a dynamic, ever-evolving destination – where diversity thrives, and everyone is welcome. Discover the true L.A. by exploring its more than 30 culturally rich neighborhoods, each one offering a distinct vibe. L.A. is home to more than 300 days of warm sunshine, 75 miles of idyllic shoreline, more museums and performing arts venues than any other U.S. city, and an innovative culinary scene led by influential tastemakers. A global creative capital and the epicenter of the sports universe, L.A. presents limitless possibilities for visitors from around the world. For more information, visit discoverlosangeles.com, follow at facebook.com/DiscoverLosAngeles, or @discoverLA on Twitter, Instagram and Pinterest.
ABOUT CERCLE
Cercle is a French media company dedicated to promoting artists and venues through exceptional production. Our goal is to raise awareness around art, cultural heritage and great sceneries throughout two noble and federating arts: music and video. Every other Monday, an artist plays for one hour in a unique setting, followed by an interview via Facebook Live. Cercle has collaborated with iconic venues like the Eiffel Tower, Fontainebleau's Castle, Chambord's Castle, Montparnasse Tower Observation Deck, Bourdelle's Museum, Pao de Azucar, Salaar de Uyuni, Marina Bay Sands, the Great Pyramids and many more around the world. To learn more, visit Cercle.io or find us on Facebook, Instagram and Twitch at @CercleMusic.