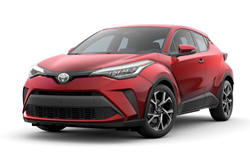 MANHATTAN BEACH, Calif. (PRWEB) February 19, 2020
Manhattan Beach Toyota has tried to keep up with the automotive industry by detailing some of its incoming vehicles. The Manhattan Beach Toyota blog offers a wide range of information about the latest Toyota vehicles and their features. With a large amount of Toyota C-HR crossovers, the dealership blog has expanded with more important details on the new vehicle to help drivers learn more about it.
This blog offers details on the latest Toyota C-HR vehicles. This includes blog posts on the price information of the Toyota C-HR to help shoppers find the right trim that is in their budget as well as specs and features blogs to help drivers understand what the vehicle has to offer.
These blog posts offer several images to help drivers visualize the 2020 Toyota C-HR and help them see themselves inside the vehicle. There are other informative web pages on the Manhattan Beach Toyota website. These web pages offer links to the inventory, past models, and important dealership news to help answer drivers' questions without having to stop in at the dealership.
Interested parties who would like to learn more about the new 2020 Toyota C-HR can browse through the Manhattan Beach Toyota blog by clicking here: manhattanbeachtoyota.com. Car shoppers who have more questions about the 2020 Toyota C-HR, or any other Toyota models, can contact Manhattan Beach Toyota at 855-995-7001 to speak with a representative. The Manhattan Beach Toyota showroom is open 8:30 a.m. to 9 p.m. Monday through Saturday and 9 a.m. to 9 p.m. on Sunday. Shoppers can visit the showroom located at 1500 N. Sepulveda Blvd., Manhattan Beach, CA 90266 to take one of the available Toyota C-HR crossovers for a test drive.