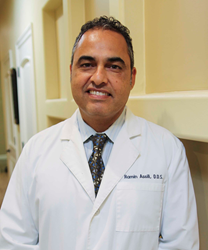 East Los Angeles, CA (PRWEB) May 01, 2017
East Los Angeles kids dentist, Dr. Ramin Assili, today comments on a recent study that covered prevention of tooth decay in children. According to researchers, fluoride application is as effective for keeping kids' teeth without cavities as sealants, which are also popular for preventive dental purposes among children. Preventing oral health problems is especially important during childhood, when orofacial development is paving the way for long-term oral health. With a focus on preventive dental options for children, Dr. Ramin Assili can help kids enjoy dental wellness for a lifetime.
Researchers treated the teeth of eight hundred children with either a sealant or a fluoride varnish to find out which was more effective at keeping the teeth without cavities. While sealants are basically a plastic coating that is painted over teeth to protect the enamel from bacteria and acids, fluoride is a naturally occurring mineral that strengthens teeth, fights bacteria, and helps prevent cavities. At the end of the study, researchers found that just 17.5 percent of the children in the fluoride group needed fillings, but 19.6 percent of children in the sealant group needed fillings. The researchers observed that fluoride, the faster and simpler cavity prevention method of the two, more effective than sealants at keeping kids without cavities.
About Dr. Ramin Assili, Dentist in East LA
The office of Dr. Assili provides a full range of dental services to pediatric patients. In addition to preventive dentistry, they provide restorations, early orthodontics, and pediatric sedation, including inhaled sedation. Other treatments at the office include tooth replacements, including dental implants, dentures, and bridges, as well as root canal treatment, extractions, and Invisalign. Many cosmetic dental procedures are also performed at the office.
Dr. Ramin Assili earned his undergraduate degree in Biochemistry at California State University, Northridge, before earning his DDS at UCLA School of Dentistry. Throughout his career, Dr. Assili has also completed many hours of continuing education in his field, including at the prestigious Misch Implant Institute, allowing him to offer the latest dental techniques and technologies available. Dr. Assili is a reputable member of several organizations in his profession, including the American Dental Association.
Source: https://medicalxpress.com/news/2017-04-tooth-children.html