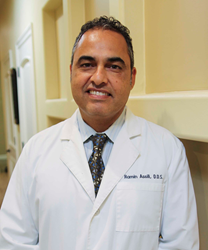 East Los Angeles, CA (PRWEB) September 06, 2016
East Los Angeles dentist, Dr. Assili, announces that he is now offering a promotion on Zoom whitening, a newer professional teeth whitening treatment. For just $199, patients can receive a one-hour session of Zoom whitening. This promotion expires on September 30, 2016, and cannot be combined with any other offer. Zoom whitening, like conventional office teeth whitening options, gives patients faster, more impressive results than what store-bought whitening products deliver. With a unique formula and treatment process, however, Zoom whitening offers even better results than those of conventional teeth whitening.
Zoom whitening combines a patented whitening compound with a special light and procedure. The whitening gel contains not only hydrogen peroxide, which is present in traditional whitening gels, but also carbamide peroxide, which enhances the bleaching effects to eliminate heavier stains. The whitening process involves applying the Zoom gel to the teeth and activating it with the Zoom light. Instead of including just one whitening cycle, as conventional teeth whitening procedures do, Zoom includes three cycles of gel application, activation, and removal. The end of a Zoom session includes application of fluoride to prevent post-whitening teeth sensitivity.
The office of Dr. Assili provides several treatments in a full range of dental specialties. Available restorations include tooth-colored fillings and crowns, while cosmetic options include veneers, bonding, and smile makeover. The office also offers dental implants and dental bridges for replacement of missing teeth. Endodontic care, such as root canal therapy, is provided for infected teeth. Patients can also have wisdom teeth and other teeth removed at the office. The latest dental treatments for sleep apnea, including oral appliances and soft-tissue surgery, are also available.
Dr. Assili graduated from California State University, Northridge, with his degree in Biochemistry before going to UCLA School of Dentistry, where he earned his DDS. At the Misch Implant Institute, an internationally known center for implantology studies, Dr. Assili furthered his skills in the specialty of dental implants. Today, as a respected member of several prestigious dental associations, Dr. Assili provides a broad range of the latest dental procedures to give patients healthy, great-looking teeth.