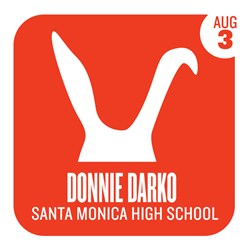 We're really excited about kicking off August with Donnie Darko
Los Angeles, CA (PRWEB) July 29, 2013
On Saturday, August 3rd, 2013, premiere Los Angeles movies in the park series will feature Donnie Darko, starring Jake Gyllenhaal, at Santa Monica High School's baseball field in Santa Monica. In this dark drama, Jake Gyllenhaal plays the role of a teenager who has troubling visions of a large rabbit convincing him to commit serious crimes. Other celebrities that appear in this film are Drew Barrymore, Patrick Swayze, Maggie Gyllenhaal, Jena Malone and more. To tie into the theme of this event, local band Haunted Summer will play at 7pm after the doors open at 5:30pm and before the movie commences at approximately 8:30pm.
Attendees will have the chance to enjoy delicious grub from the following food trucks that will be available at this event: Good Greek Grub, Tainamite, Trailer Trash Truck, Uncle Lau's BBQ, Let's Roll It, Coolhaus and Brasil Kiss; the Dessert Truck is currently TBD. Guests are advised to enter the event through the walkway on 4th Street between the track and DoubleTree Hotel as this is the only entrance. Parking for cars will be available across the street at the Civic Center Parking Structure, 333 Civic Center Drive, and there will be plenty of bike parking as well.
"We're really excited about kicking off August with Donnie Darko," says Sharon Sperber, Co-owner of Eat|See|Hear. "Every now and then we love showing a classic dark film among the comedies. It keeps our movie schedule appealing to various people all summer long!"
Tickets to this event can be purchased at http://donniedarko-eorg.eventbrite.com/. General admission tickets are just $10 a piece and premium seating Popchips-Sponsored Fashionably Late tickets are $20 a piece.
Eat|See|Hear is LA's premier outdoor movie, food truck and live music series that brings an evening of fun to Los Angeles-area venues each summer. The second annual series is presented by SHOWTIME, featuring up and coming bands from the local music scene, the hottest food trucks and the only 3-story high, 52-foot wide inflatable movie screen west of the Mississippi with the highest quality HD-projection and digital surround sound. The Eat|See|Hear series promises an enjoyable movie-going experience for everyone. Eat|See|Hear is produced through a collaboration between LA-based Trailhead Marketing, Inc. and Hollywood Outdoor Movies.
For more information about the Second Annual Eat|See|Hear summer event series, consumers are encouraged to visit http://schedule.eatseehear.com/event/2013/08/03/eatseehear-donnie-darko, as well as the Eat|See|Hear Facebook page, Twitter feed (@EatSeeHear) and Instagram for the latest updates.