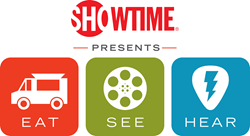 Seeing this film this July 4th is a great way celebrate our national holiday and the 40th anniversary of this classic movie at the same time.
Los Angeles, CA (PRWEB) July 03, 2015
Los Angeles outdoor movies event series Eat|See|Hear will be in Santa Monica 4th of July weekend, specifically Saturday, July 4, to showcase the 1975 blockbuster, Jaws. This event will be held at Santa Monica High School's Memorial Greek Amphitheatre, located at 601 Pico Blvd. Showtime is at 8:30 p.m.
Steven Spielberg directed this classic thriller, about a gigantic great white shark that brings terror to the small New England coastal town of Amity. The film stars Roy Scheider as Police Chief Martin Brody and Richard Dreyfuss as the marine scientist, Matt Hooper, who spearhead a mission to hunt down the killer shark. They enlist the help of a crusty, old shark hunter by the name of Quint, who is played by Robert Shaw.
Jaws debuted in theaters on June 20, 1975. In the weeks that followed, it grossed more than $100 million at the box office, setting the record for the highest grossing film of its time and becoming Hollywood's first "summer movie blockbuster."
"Jaws is an American cultural phenomenon," says Sharon Sperber, co-owner of Eat|See|Hear. "Seeing this film this July 4th is a great way celebrate our national holiday and the 40th anniversary of this classic movie at the same time."
Doors open at 5:30 p.m. The LA-based indie band, Suspect, will take the stage at 7:30 pm. Suspect mixes a wide variety of influences into the project creating a heavy and driving sound that captures their love for old school funk and soul as well their appreciation for blues and rock. With influences that range anywhere from artists such as Parliament to Jeff Buckley, Suspect has created a persona that not only digs deep into the emotion of every story they tell but that also transcends the story into your body with a groove that will force you to get down.
As usual, plenty of food trucks will be on hand, including Gastrobus, Wings n Waffles, Tornado Potato, Grilled Cheese Truck, Doner KeBab, Steel City Sandwich, Sweet Arlenes, Brasil Kiss and Coolhaus. Food trucks will be open for business at 5:30 p.m.
Parking available at the Civic Center Parking Structure, located at 333 Civic Center Drive, for a flat fee of $5. This structure is across the street from the high school. "There are also plenty of bike racks at the Civic Center where you can park your bike for free, if you decide to bike in," Sperber says. Movie goers are asked to enter the amphitheater through the walkway on 4th Street, between the track and the DoubleTree Hotel.
Purchase tickets online in advance. General admission tickets are $12 each for adults ($14 at the door), $8 for children under 12 years old, and free for children 5 and under.
"Buying your tickets in advance is the way to go, because you will automatically be entered to win a R/T flight to Auckland, courtesy of Air New Zealand," says Sperber.
In addition to general admission tickets, a limited number of "Air New Zealand Fashionably Late" passes are available for purchase in advance at the Eventbrite website, granting seating in a reserved area, regardless of arrival time.
For further information about Eat|See|Hear's Jaws event, visit eatseehear.com. Don't miss your chance to see this 1970s classic on the Eat|See|Hear big screen!
About Eat|See|Hear
Voted "Best Outdoor Movie Series" by Los Angeles Magazine in 2014, the Eat|See|Hear outdoor movie, food truck and live music series brings an evening of fun to Los Angeles-area venues each summer. The fourth annual series is presented by SHOWTIME NETWORKS, featuring up-and-coming bands from the local music scene, the hottest food trucks and the largest inflatable movie screen on the west coast with the highest quality HD-projection with a 52-foot wide image and professional sound. Eat|See|Hear promises an enjoyable movie-going experience for everyone, including dogs. Each event and is produced by LA-based Trailhead Marketing, Inc. For more information visit http://eatseehear.com.