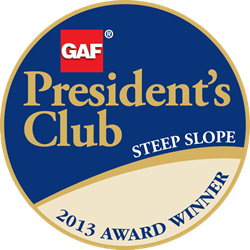 It is important to the growth, success and improvement of our industry to give back to other roofing contractors.
Los Angeles, CA (PRWEB) April 04, 2014
Chandler's Roofing of San Pedro, CA is pleased to announce after 12 years of participation in GAF's Master Elite contractor program and hundreds of Los Angeles and Orange County GAF roofing installations, that it was awarded the prestigious GAF President's Club Award, recognizing the best, brightest and most supportive GAF Master Elite contractors in the country.
The GAF Master Elite Contractor President's Club designation is an exciting way for GAF's loyal contractors to be recognized for their excellence. Contractors are able to achieve this designation based on their "Performance", "Reliability", and "Service".
As one of only 97 contractors from North America to achieve the President's Club award, Chandler's Roofing has shown to consistently provide superior-quality services, while excelling at providing extensive and consistent warranty options that offer long-term security and peace-of-mind for Southern California property owners.
Additionally, Chandler's Roofing president, Trevor Leeds was selected as an Elite Advisor in the 2014 GAF Master Elite Contractor program. This program was bestowed based upon a demonstration of leadership, mentorship and a desire to share industry leading insight with fellow roofing contractors across North America.
"We are truly proud of the President's Club Award, as it is a direct reflection upon our company's effort to provide the best service, quality and warranty options for our roofing customers in Los Angeles and Orange County," stated Trevor Leeds, president of Chandler's Roofing. "Being elected as a GAF Elite Advisor is also a tremendous honor in which I take very seriously. It is important to the growth, success and improvement of our industry to give back to other roofing contractors through the sharing of industry best practices and knowledge."
About Chandler's Roofing:
Originally established in 1942, Chandler's Roofing has been recognized as the premier Southern California roofing contractor, winning leading industry awards such as 2011 Roofing Contractor of the Year, 2010-13 Angie's List Super Service Awards, 2013 GAF Presidents Club Award and earning the prestigious Master Elite™, Master Select™ and Solar Elite™ Contractor status with America's largest roofing manufacturer, GAF. With a long history in high-quality, sustainable-craftsmanship, Chandler's Roofing is skilled in multiple residential, commercial, and industrial new roof and re-roof applications, providing complete roofing, solar, rain gutter, insulation, skylight, and custom sheet metal solutions to its clients. For more information about Chandler's Roofing, visit http://www.chandlersroofing.com.
About GAF:
Founded in 1886, GAF has become the largest roofing manufacturer in North America. The company's products include a comprehensive portfolio of steep-slope and commercial roofing systems, which are supported by an extensive national network of factory-certified contractors. Its success is driven by its commitment to Advanced Quality, Industry Expertise, and Solutions Made Simple for contractors, specifiers, and property owners alike. In 2011, GAF was the first roofing manufacturer to offer a Lifetime limited warranty on all of its laminated shingles and, in 2012, it introduced the GAF Lifetime Roofing System.
With a focus on social responsibility, GAF has developed Advanced Protection® Shingle Technology, which provides superior durability and wind resistance while reducing the use of scarce natural resources. The company has also developed single-ply and asphaltic membranes with superior durability and high reflectivity to meet the most rigorous industry standards while helping commercial property owners and designers reduce energy consumption.
GAF also supports the roofing industry through CARE, the Center for the Advancement of Roofing Excellence, which has provided education to over 125,000 professionals. CARE's mission is to help professional contractors and distributors build their businesses through sales and management education, and to provide product and installation training to contractors, distributors, architects, property owners, and related industry personnel. For more information about GAF, visit http://www.gaf.com.