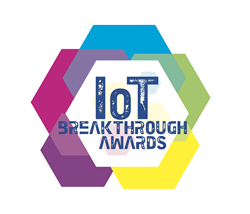 Losant is at the forefront of what IoT development and integration looks like in 2020 and beyond, and we are thrilled to name them an IoT Breakthrough Award winner
LOS ANGELES (PRWEB) January 03, 2020
IoT Breakthrough, a leading market intelligence organization that recognizes the top companies, technologies and products in the global Internet-of-Things (IoT) market, today announced that Losant, an enterprise IoT platform that makes building real-time connected solutions simple, has been selected as the winner of the "Enterprise IoT Platform Innovation Award" in the 4th annual IoT Breakthrough Awards program.
The Losant Enterprise IoT Platform is an application enablement platform that allows enterprises to effectively build applications that securely scale to millions of devices. With real-time stream processing and batch processing capabilities, users can create dynamic experiences and perform complex analytics. The Losant Platform components include Edge Compute, Devices & Data Sources, Data Visualization, Visual Workflow Engine, and End-User Experiences. All of Losant's components, from Edge Compute to End-User Experiences, work seamlessly together to transform data into tailored IoT solutions.
"While initiating and deploying enterprise IoT applications can be intimidating for many organizations, Losant simplifies the end-to-end process, providing all the tools necessary to build completely custom and branded user interfaces and APIs," said James Johnson, managing director at IoT Breakthrough. "As Losant continues to add new features and platform updates their platform showcases "breakthrough" usability, flexibility, reliability, and security for their customers. Losant is at the forefront of what IoT development and integration looks like in 2020 and beyond, and we are thrilled to name them an IoT Breakthrough Award winner."
The mission of the IoT Breakthrough Awards program is to recognize the innovators, leaders and visionaries from around the globe in a range of IoT categories, including Industrial and Enterprise IoT, Smart City technology, Connected Home and Home Automation, Connected Car, and many more. This year's program attracted more than 3,700 nominations from companies all over the world.
Losant's area of specialization includes tailored Internet-of-Things solutions, Industrial IoT industries including manufacturing, construction, oil & gas as well as solutions for asset tracking, industrial equipment monitoring, and condition-based maintenance. Losant also has use cases in a variety of industries beyond IIoT such as Telecommunications and Smart Environment including Smart Campus and Smart Buildings. Losant, which is designed to scale, is one of the only cloud-based platforms that can quickly and securely help you deliver multi-tenant applications and uniquely branded experiences. Losant offers on-premises installations and geographical or multi-region deployments.
"Losant approaches new projects with a proven method for success," said Charlie Key, CEO, Losant. "Our best practices include working with the client to define the problem, engaging best-in-class partners from our ecosystem, creating a PoC, developing a pilot, and then scaling up to production. We are proud to empower our customers to build connected solutions that produce real-time results, and this 2020 IoT Breakthrough Award is a fantastic validation of the team's success in that mission."
About Losant
Losant is an easy-to-use and powerful enterprise IoT platform designed to help teams quickly and securely build complex real-time connected solutions. Losant uses open communication standards to provide connectivity from one to millions of devices and provides powerful data collection, aggregation, and visualization features to empower enterprise teams with new data insights. Edge features are integrated directly into the Losant IoT platform for seamless integration of connected and non-connected devices. Start independently or work with Losant's experienced solution engineers. http://www.losant.com
About IoT Breakthrough
Part of Tech Breakthrough, a leading market intelligence and recognition platform for global technology innovation and leadership, the IoT Breakthrough Awards program is devoted to honoring excellence in Internet-of-Things technologies, services, companies and products. The IoT Breakthrough Awards program provides a forum for public recognition around the achievements of IoT companies and products in categories including Connected Home and Home Automation, Connected Car, Industrial IoT (IIoT) and Smart City, Consumer IoT and more. For more information visit IoTBreakthrough.com.