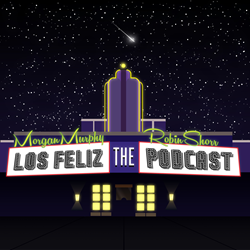 Hi neighbor!
Los Angeles, CA (PRWEB) May 24, 2017
Feral Audio is pleased to announce the launch of "Los Feliz: The Podcast", starring TV comedy writers Morgan Murphy ('2 Broke Girls', 'Jimmy Kimmel Live!') and Robin Shorr ('The Carmichael Show', 'Galavant'). In this lively weekly discussion, the two comedians will explore what makes Los Feliz unique, dishing about the latest neighborhood news, and interviewing residents, business owners, and local politicians for insider tips, events, and some thoughtful community ribbing.
Whether it's a tap water test, sharing Los Feliz ghost stories, or a fervent discussion of Katy Perry buying a convent, nothing is off limits in this hilarious weekly audio play, which will feature local luminaries and celebrity resident guests like TV show creator Jonathan Ames (HBO's 'Bored to Death', Showtime's 'Blunt Talk') and actor Adam Godley ('Breaking Bad', 'Love, Actually'). Listen to the podcast on Feral Audio.
"We're excited to share insights into our weird little neighborhood with everything from our #1 pet stores to the best place to go for bottomless mimosas. We also wanted to share a slice of what it's like living in this little corner of Los Angeles that's become so special to us," say hosts Morgan Murphy and Robin Shorr.
"Los Feliz: The Podcast" will rollout with a creative outdoor advertising campaign and will continue to be supported and driven by local community input through the website and its social media channels. Neighborhood enthusiasts eager to share news, events, and tidbits are encouraged to email losfelizthepodcast(at)gmail.com, visit http://www.feralaudio.com/losfeliz, or connect on Twitter @losfelizthepodcast.
About Los Feliz: The Podcast
"Hi neighbor!" 'Los Feliz: The Podcast' is a comedic look at the latest neighborhood news and best local stories. Each week, hosts Morgan Murphy and Robin Shorr will keep listeners up-to-date with local businesses, politicians, shop owners and dedicated residents of this close-knit community.
Morgan Murphy has recently written for the CBS comedy, "2 Broke Girls" and appeared in the films "Sleeping Dogs Lie" and "World's Greatest Dad". Previously, she performed standup and wrote for "Jimmy Kimmel Live!" and "Late Night with Jimmy Fallon", where she was part of the original writing staff and received an Emmy Award nomination for Outstanding Writing. Morgan released her critically acclaimed stand up special "Irish Goodbye" in 2014. Shout out to Morgan on Twitter @morgan_murphy.
Robin Shorr has never been nominated for an Emmy Award but has written for a slew of television shows that you've either never heard of, saw a commercial for, or got cancelled before you had a chance to tune in. Recent writing credits include "The Carmichael Show", "Galavant", "the middle". and "Workaholics". As an actress, she's appeared in the film "She's Out of My League", "New Girl" and most famously as the pizza waitress on "That's So Raven". Robin is on Twitter and Instagram @RobinShorr.
Morgan and Robin are both long time residents and proud Los Feliz locals.
About Feral Audio:
Feral Audio is a popular podcast network focusing on unique, creator driven content with shows like Dan Harmon's "Harmontown", "The Duncan Trussel Family Hour", The Sklar Bros.' "Dumb People Town", and many more. The network was founded by sound engineer Dustin Marshall and is led by digital media expert, Jason Smith, who serves as CEO. Feral Audio is a proud partner of Starburns Industries (SBI), the production company behind the critically acclaimed animated feature, "Anomalisa" and the hit animated TV series, "Rick and Morty".