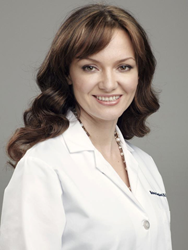 Today's options for restoring collagen include new forms of bio-identical collagen, which do not require lengthy allergy tests. But there is also an increasing number of ways to stimulate the body's own production of collagen.
NEW YORK (PRWEB) November 07, 2018
Like sand through an hourglass, so go the days of our lives – and the collagen fibers below our skin. "Wrinkles are the outward sign of our skin's underlying loss of collagen," explains board-certified dermatologist Dr. Valerie Goldburt of Advanced Dermatology PC. "As we get older, the collagen that supports our skin's structure and keeps it smooth ebbs, and wrinkles settle in."
For decades, dermatologists have sought ways to replenish collagen and erase wrinkles. "Starting in the 1970s, doctors were able to use collagen from animals," notes Dr. Goldburt. "Since then, we've seen incredible advances, with safer bio-identical collagen, as well as the potential for combining complementary procedures. Today, patients face the fortunate challenge of myriad choices to customize the approach best suited to them."
Collagen – our body's most plentiful protein – is a key connective fiber that helps support our bones, muscles and skin. Under our skin, collagen fibers build the framework that keeps the surface taut and wrinkle-free. Over time, as collagen fibers are lost, our skin sags into the gaps left behind, creating wrinkles.
"Today's options for restoring collagen include new forms of bio-identical collagen, which do not require lengthy allergy tests," observes Dr. Goldburt. "But there is also an increasing number of ways to stimulate the body's own production of collagen."
Wrinkle treatment injections – including collagen-based dermal fillers – are by far the most popular cosmetic procedure today, according to the American Society of Plastic Surgeons. In 2017 alone, there were close to 2.7 million dermal-filler injections, an increase of more than 300 percent from 2000.
"In addition to replacement collagen," notes Dr. Goldburt, "we also have new ways to trigger collagen production. These include injectables such as Sculptra, as well as surface techniques like microneedling and lasers. With the guidance of an experienced doctor, patients have increased opportunity to achieve the results they want."
With that in mind, Dr. Goldburt offers the following tips on how to make the most of today's collagen-replacing breakthroughs:
Five Tips to Make the Most of Today's Collagen Treatments
1. Choose a doctor you can communicate with: "To make the most of the range of options that exist, you need to feel really comfortable explaining what you want – and also fully understanding what your doctor is presenting," emphasizes Dr. Goldburt. "That's the starting point for customizing an approach that's best for you."
2. Consider short-term versus long-term goals: "Today's choices," observes Dr. Goldburt, "include fast-acting collagen-replacement injections, such as CosmoDerm®, as well as collagen-stimulating procedures, such as Sculptra injections and microneedling, that have a delayed cumulative impact."
3. Be clear about how long the results will last: "Staying power varies," explains Dr. Goldburt. "With collagen injections, the replacement collagen will gradually diminish, too. To maintain rejuvenation, patients typically need ongoing 'touch ups' after several months. Other approaches, those that stimulate collagen production such as microneedling and Sculptra, can last a year or longer. And some procedures, such as Bellafill injections, can be permanent."
4. Consider adding a "plus": "We've seen that combining different procedures – for example 'botox' plus collagen or hyaluronic acid plus microneedling – creates synergistic results," notes Dr. Goldburt. "Each procedure can accentuate the other to achieve a greater overall impact. It's another reason communicating your big-picture goals to your doctor is so important for a truly individualized plan instead of a piecemeal, 'a la carte' approach."
5. Stay realistic about the results: "Collagen provides support for the skin and can address wrinkles," says Dr. Goldburt, "but it can not address more extensive issues, like excess or loose skin. In these cases, collagen can support additional interventions, such as a facelift."
The increasing options for restoring aging skin underscore the importance of the doctor-patient relationship: "More than ever," Dr. Goldburt reflects, "your dermatologist's office is an essential resource for skin rejuvenation."
Valerie Goldburt, MD, PhD, is board-certified and specializes in medical and cosmetic dermatology at Advanced Dermatology P.C.
Advanced Dermatology P.C. and the Center for Laser and Cosmetic Surgery (New York & New Jersey) is one of the leading dermatology centers in the nation, offering highly experienced physicians in the fields of cosmetic and laser dermatology as well as plastic surgery and state-of-the-art medical technologies. http://www.advanceddermatologypc.com.