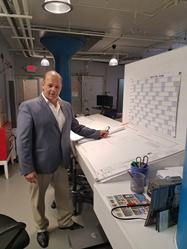 Jack has made restaurant deals in many landmark buildings and always made the numbers work.
READING, Pa. (PRWEB) November 04, 2019
Frank Lott, Founder and President of LOTT Restaurant Construction, LLC, announced today that veteran restaurant and retail leasing property/project management specialist Jack Intrator, CPM, ARM, RAM, has joined the company as Senior Project Manager and New Business Executive. "Jack brings more than 25 years of retail and restaurant construction project management experience to the team. This unique combination of talent provides benefits to all phases of our restaurant construction projects, said Lott. "Jack has made restaurant deals in many landmark buildings and always made the numbers work. His forte is being able to bridge the gap on both landlord and tenant work. We look forward to working with Jack's many contacts within the real estate industry."
Intrator previously worked at Realty Mark City Scape, LLC. His specialty is making restaurant deals work in terms of time, budget and delivery. His recent successes include bringing a gourmet grocery store to Valley Forge Towers, which is owned and operated by the Galman Group. "The company reached out to Jack, as he is known for his creative deal making and negotiating skills. This was a difficult transaction as there never was a deal like this before at Valley Forge Towers. Jack worked though all the details including leasing, construction project management and financial obligations. If you want to make things happen, that's what Jack does best– he brings parties together," said Brian Paule, Director of Property Management, The Galman Group. "This deal was a long time coming. Jack is the consummate professional who did a great job bringing both sides together. It is a real testament to Jack's above and beyond work ethic," said George Butcher, Principal of Savor LLC.
LOTT Restaurant Construction is a full-service restaurant construction company specializing in restaurant development. LOTT guarantees bringing jobs to completion in record time, without the constant change orders most builders charge. LOTT has opened over 400 restaurant locations in more than 15 states nationwide. As Frank Lott says, "We equate the construction of a restaurant to that of a fine watch. It must be precise, exact, consistent and on time. That's what we do at LOTT." To learn more, please visit http://www.restaurantsontime.com/.