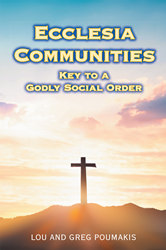 MANCHESTER, N.H. (PRWEB) February 07, 2023
In "Ecclesia Communities: Key to a Godly Social Order," by Lou and Greg Poumakis, readers are provided with a doctrine of the Biblical Christian faith.
This book explores the Word of God and the true meaning behind Jesus' and the Apostle's use of the term "ecclesia," and how it shaped the early ecclesia communities.
The authors provide that, shortly after the Bible was first translated to English, the institutional church and governments defined ecclesia to be the institutions of the then current day by using the word "church" for ecclesia. This changed the meaning from 'the people' to 'the institutions' – authoritarian institutions rather than a community.
"Since then, many have declared that "ecclesia" does not mean "church," Poumakis said, "but they have failed to explore the deeper ramifications or articulate that it was a specific intended misuse to manipulate and control the body of Christ."
This book differentiates between the true teachings and false traditions of the term "ecclesia." According to the authors, these traditions concern three main topics: who individual believers really are in Christ, what defines the structure of a local ecclesia community, and the full mission of the ecclesia communities.
There is currently a large movement in the country, the 'house' or 'home' churches, where Christians are rejecting the institutional church and embracing the early church communities by gathering outside of institutional churches.
"I believe that this book will help those readers come to the realization that they have taken the correct step in their faith," Poumakis said.
"Ecclesia Communities: Key to a Godly Social Order"
By Lou and Greg Poumakis
ISBN: 9781665557672 (softcover); 9781665557658 (hardcover); 9781665557665 (electronic)
Available at AuthorHouse, Amazon and Barnes & Noble
About the author
Lou Poumakis is a retired electrical engineer. He has been a student of the Bible since his conversion in 1974, he then became ordained as an elder in the Christian Reformed Church and later as a minister in the Federation of Reformed Churches. Greg Poumakis, Lou's son, attended Pensacola Christian College and later graduated from Dordt College. He came to the faith in 1970. Lou published a book prior called, "Faith On Earth." This new book is a collaboration of Lou and Greg. Lou currently resides in Boynton Beach, Fla. and Greg in Manchester, N.H.
To learn more, please visit http://www.ecclesiacommunities.life.
###
General Inquiries:
LAVIDGE – Phoenix
Ashley Baccaro
480-648-7557
abaccaro@lavidge.com