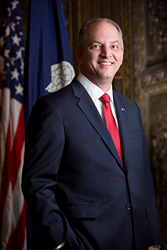 HOUSTON (PRWEB) October 19, 2018
The Keynote is scheduled from 8:30 AM – 10:00 AM on Wednesday, November 14th. Immediately following the Keynote, Louisiana Lt. Governor Billy Nungesser will deliver the Welcome. The governor grew up in Amite, Louisiana as one of eight children, and graduated in 1988 from the United States Military Academy at West Point. The governor served as an Airborne Ranger on active duty with the United States Army and commanded a rifle company in the 82nd Airborne Division at Fort Bragg, NC. He went on to graduate Order of the Coif from Louisiana State University Law Center and set up a civil law practice in his home town of Amite. In 2008, he was elected to the Louisiana House of Representatives from District 72, where he served for eight years until the voters of Louisiana elected him governor in November 2015.
Welcome: Lt. Governor Billy Nungesser, State of Louisiana
William Harold Nungesser, is an American politician serving as the 54th and current Lieutenant Governor of Louisiana, since January 11, 2016.
The CLEAN GULF Conference & Exhibition is the premier annual event for industry and government to come together and discuss planning, preparedness and response issues for oil and hazardous materials spills. It brings together all parties responsible for prevention and response operations from North America and beyond to hear best practices and build relationships vital to a successful response on land or water. The main focus of the conference sessions are case studies, best practices and lessons-learned, and the exhibit hall is filled with products and services for prevention and response.