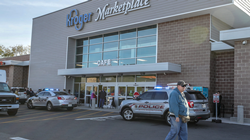 LOUISVILLE, Ky. (PRWEB) November 05, 2019
Attorney Will Nefzger of Bahe, Cook, Cantley & Nefzger, Louisville's personal injury law firm, is representing Denise Clark, a customer who was shopping in the Jeffersontown Kroger during the deadly shooting of Oct. 24, 2018, in her class-action lawsuit against the shooter, Gregory Bush, and the supermarket chain.
Clark filed the lawsuit, case number 19-CI-006629 in Jefferson Circuit Court, on the eve of the one-year anniversary of the attack, which took the lives of 67-year-old Vickie Lee Jones and 69-year-old Maurice Stallard, both black shoppers. Clark claims she has suffered "physical, mental and/or emotional injuries" allegedly as a result of witnessing and fleeing from the shooting.
Bush is facing murder and hate crime charges in state and federal court in connection with the shooting. Clark claims Kroger allegedly had no security measures in place to prevent Bush from carrying out a mass shooting in its store or at least mitigating it. The class-action suit invites others, with certain exceptions, who suffered physical, mental or emotional issues as a result of the shooting to join it. The lawsuit also seeks unspecified damages and compensation along with a jury trial.
Bahe Cook Cantley & Nefzger PLC has been serving the residents of the Louisville area since 2004. Five Partners and 10 knowledgeable, trusted lawyers are ready and able to help the area's residents with personal law practice areas. If legal help is needed, visit the firm's website at kentuckyinjurylaw.com.
Media Contact:
Ashley Shadburne
ashley@hatfieldmedia.com
http://www.hatfieldmedia.com