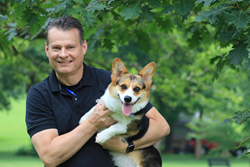 I've always had a passion for animals and I understand that, for many of us, our pets are members of our family. Giving them the best opportunity to live a long, healthy and happy life starts with making sure they are getting the nutrition they need to thrive. - Rich Smith
JEFFERSONTOWN, Ky. (PRWEB) October 30, 2018
Experienced business owner and Louisville native Rich Smith is excited to announce the launch of his new local pet food and supply company, Pet Wants J-town.
Pet Wants' specially-crafted, proprietary pet food formulas are made in small batches with fresh, natural ingredients enhanced with vitamins and minerals for a complete and balanced diet in every bowl. Pet Wants J-town offers multiple blends of dog and cat food formulas as well as healing salve, calming balm, anti-itch spray, paw wax and more. Pet Wants J-town offers free, personal delivery to Jeffersontown, Hikes Point, Fern Creek, Crestwood (Pee Wee Valley), Mt. Washington and the surrounding areas. Pet Wants J-Town's storefront at 3831 Ruckriegel Parkway will be open on November 1, 2018.
"I've always had a passion for animals and I understand that, for many of us, our pets are members of our family. Giving them the best opportunity to live a long, healthy and happy life starts with making sure they are getting the nutrition they need to thrive. At Pet Wants, we are committed to making fresh, high-quality food that's conveniently delivered without breaking the bank. We make it easy to give your pets the best," Smith said.
Pet Wants has a 100-percent, money-back guarantee on the freshness and quality of the food and the company only sources the best salmon, chicken, lamb, brown rice and other ingredients available. There's no sugar added, no fillers and no animal by-products and Pet Wants never uses corn, wheat, soy or dyes, which makes the food great for animals with allergies.
Smith was born and raised in Louisville, Kentucky, and attended Trinity High School and the University of Louisville, where he earned his business degree. He previously owned a Louisville comic book business called Zone and has always had a passion for local businesses. Smith is married with a 12-year-old named Keira and a 2-year-old Corgi named Tessa. The journey to Pet Wants all started when their Corgi named Jake's health started to decline.
"Our dog Jake, who passed away recently, had been losing the ability to use his back legs, so I was researching ways to help him feel his best, which included making sure he had the right nutrition. That's when I found Pet Wants. We took great care of Jake and he was 13 when he died, but I wish we had known about Pet Wants earlier because I know now what a difference quality food can make. Tessa, who has been eating nothing but Pet Wants, is happy and healthy," Smith said.
To learn more about Pet Wants J-town or to place an order, call (502)714-9042, email RichSmith@PetWants.com or visit http://www.PetWantsJtown.com.
About Pet Wants: Pet Wants was started by Michele Hobbs out of love for her pets and frustration. Veterinarians were unable to help relieve her dog's painful skin allergies. After doing much research, Michele discovered the national dog food brand she trusted was not fresh, not all natural, and lacked sufficient nutrition and – when pet food sits in warehouses and store shelves for months and months – it loses even more nutritional value. She was committed to developing a better solution for all dogs and cats. Their food is exclusively crafted. It's fresh, healthy and slow-cooked with no sugar added, no fillers and no animal by-products. They source only the best salmon, chicken, lamb, brown rice, and other ingredients. Fresh ingredients make for better food… and better health for pets. And since they never use corn, wheat, soy or dyes, the common pet health problems associated with these ingredients are no longer worries. Their fresh food is conveniently delivered to the customer within weeks of production, not months. Roughly half of Pet Wants products are sold through their store and half through their convenient, home-delivery program. You can learn more at http://www.PetWants.com.