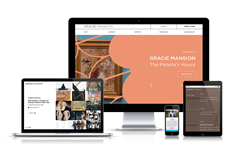 The design approach makes use of artistic style, an intuitive layout, and a side-scrolling landing page that showcases art from exhibits held at the mansion
NEW YORK (PRWEB) February 18, 2020

Gracie Mansion Launches New Website
Lounge Lizard Worldwide is globally recognized as a top web designer and developer. "Best of Breed since 1998," they employ some of the most creative, tech-savvy, and passionate people in the industry which allows them to develop innovative strategies, award-winning web design, and craft creative applications for both startups and established clients in all industries.
Lounge Lizard is excited to announce the launch of a new website for Gracie Mansion, the official online site for the home of the sitting mayors of New York City and their families. This new site was designed to help promote increased visitation from native New Yorkers, NYC metro area schools, and tourists. It also needed to provide a variety of information along with delivering useful functionality, all while honoring the rich tradition of the mansion.
The design approach makes use of artistic style, an intuitive layout, and a side-scrolling landing page that showcases art from exhibits held at the mansion. White space and effective minimalism were incorporated to offset the color scheme and improve visibility along with navigation. With secondary goals of educating users on the past exhibits, the long history of both Gracie Mansion along with the elected mayors, and the 1st Ladies of Gracie Mansion, navigation and clarity were both important focuses.
The responsive design ensures that any site user can quickly and easily find the information they need with a quick tap. An interactive timeline was crafted with rolling animation to take users on a journey through the years. The customized tile layout showcases the current art exhibitions with a focus on image clarity without sacrificing site speed. This new site is reflective of the Gracie Mansion brand as an iconic landmark within the rich history of New York City.
Archibald Gracie Mansion is the official residence of the Mayor of the City of New York. The Gracie Mansion Conservancy is a private not-for-profit corporation established to preserve, maintain, enhance, and enliven Gracie Mansion. It was founded in 1981 by Mayor Edward I. Koch. The mansion has a storied history in New York, including housing the Museum of the City of New York. It became the mayoral residence in 1942 and was majorly restored during Mayor Michael Bloomberg's term.
About Lounge Lizard Worldwide
Lounge Lizard Worldwide is an award-winning, high-end design boutique specializing in website design and development, digital marketing, mobile app development, UW/UI, and branding. Since 1998, Lounge Lizard has provided a level of expertise and experience that produces results and makes the competition envious.
If you would like additional information about the Gracie Mansion website launch or other web/marketing inquiries, please contact: marketing@loungelizard.com