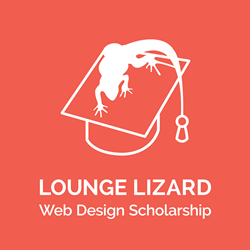 It is amazing that Lounge Lizard truly wants to invest in developing and mentoring young designers. - Anna Peterson, Fall 2020 Scholarship Winner
NEW YORK (PRWEB) November 05, 2020
As part of a long-time commitment to the education of tomorrow's leaders in the digital design field, Lounge Lizard Worldwide, Inc., the Best of Breed Web Design & Digital Marketing firm, is pleased to announce our scholarship winner for Fall 2020 — Anna Peterson. As this term's winner, Ms. Peterson received a $1,000 scholarship and the opportunity to discuss her work through a design critique with Ken Braun, Chief Creative Officer, Owner, and Founder of Lounge Lizard.
Raised in Minneapolis, MN, Ms. Peterson is a senior at Boston College and her love of all things technology related was crystal clear in her outstanding website submission: Givecard.io.
GiveCard is a non-profit organization started by Anna and a group of like-minded classmates that offers specialized debit cards, digital donation systems, and revolutionary financial planning to the homeless. As the team member responsible for web development, Anna was able to design, develop, and launch the GiveCard website complete with donation collection capabilities.
We sat down with Anna to get her thoughts on the program and her participation and this is what she had to say:
How did you hear about the scholarship program?
"I heard about this scholarship through a link my friend sent me. They sent me this and said "you should put your name in the pot! Your website is amazing, and I think you have a shot." From there, I did my own research and thought it was such an excellent program and opportunity. I applied that week!"
What was the inspiration for your winning project?
My project is a website for a startup nonprofit called "GiveCard." I am one of the 12 team members of the nonprofit, which was started (and still operated) by Boston College students. GiveCard's mission is, "We're a nonprofit organization giving specialized debit cards, digital donation systems and revolutionary financial planning to our homeless community." I was tasked with reinventing the existing one-page website that was not accurately reflecting the image and mission of GiveCard. Our team wanted a total revamp and I was so excited to completely update and redesign the website!
As a senior, have you selected the field of work you'd like to pursue, i.e., design, development, marketing, brand strategy?
I truly love being able to find how my interests and talents can help make the world a better place. I am still exploring what field I can make the most impact in (software engineering, management, web development, design), but want to continue my work with nonprofits and organizations that are championing positive missions.
Was the process beneficial to your overall learning and skills development?
Definitely! Meeting with Ken Braun, the founder, was incredibly profound. I wrote down many pages of notes, and it was invaluable to get personalized insight from experts. I am beyond grateful for the guidance, learning, and skill development from Lounge Lizard during this process, along with the financial assistance. It is amazing that Lounge Lizard truly wants to invest in developing and mentoring young designers. Thank you to everyone who has made this scholarship possible!
And good luck to you Anna!
Lounge Lizard hosts a scholarship competition each Spring and Fall that is open to students attending school in the U.S. (or accepted to begin classes within six months). Each applicant must submit a website design of their own creation, either static or live, that will be judged on design, intent, execution, and brand storytelling. Applications for the Spring semester are due by February 20, 2021, and for the Fall semester by October 3, 2021.
To learn more about Lounge Lizard please contact them at the number below.
Lounge Lizard Worldwide, Inc.
1-888-444-0110
LauraBeth.Dintrone@loungelizard.com