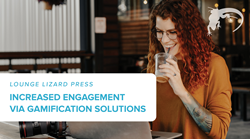 By motivating participation, Lounge Lizard's forward-looking solutions expand the customer's long-term engagement with a site or business and by providing relevant answers, moves them closer to a purchase or reward
NEW YORK (PRWEB) November 12, 2020
Today's most successful web design concepts create online experiences that capture and engage the customer and create an interactive proposition where they feel like they're part of the solution. Lounge Lizard Worldwide, Inc., the Best of Breed Web Design & Digital Marketing firm, designs gamification strategies that gain attention and solve problems through hands-on participation.
Always a leader in their field, Lounge Lizard has incorporated "rich asset creation" in a variety of web experiences that engage and encourage people's natural tendencies towards learning, achievement, and competition. By motivating participation, Lounge Lizard's forward-looking solutions expand the customer's long-term engagement with a site or business and by providing relevant answers, moves them closer to a purchase or reward.
Take a look at their ingenious tool, Mirage, a pool visualizer, developed for LOOP-LOC, a pool cover and luxury liner manufacturer. A potential customer can virtually choose their pool shape and then design everything from the paver color to the gorgeous iridescent luxury liner that shimmers and sparkles.
With literally thousands of combinations at their fingertips, online customers use this tool to convert the lengthy research process that typically coincides with a large purchase to a simple, game-like activity. The tool empowers the customer to contact a dealer knowing exactly what they are looking for, thus simplifying the purchasing process.
In similar fashion, Lounge Lizard designed and developed a preprogrammed asset for EmPRO, a new medical malpractice insurance provider in New York. Their Quick Quote tool can gather important information specific to healthcare providers and facilities, apply pertinent discounts, and return an estimated quote in under two minutes. The tool was designed to simplify the application process and introduce the wide range of potential discounts a physician may not have known was available to them.
Taking this a step further, Lounge Lizard developed an internet and technology business valuation calculator for WebsiteClosers.com. Calculating the value of a business is always a subjective and tricky endeavor, but this tool removes the guesswork.
Precise and specific, the calculator makes use of important business statistics, like Discounted Cash Flow, Future Earnings, and Asset Valuation, and applies the company's proprietary algorithm to formulate a spot-on analysis. From there, the site visitor is offered a free business valuation and consultation to learn next steps.
And in case you thought Lounge Lizard is all business, check out "Fidgy". An app found in the Apple App Store, Fidgy engages kids of all ages in a fun game of skill that's challenging and keeps you trying to outsmart the "evil emoji killer line".
To learn more about Lounge Lizard and their state-of-the-art rich asset creation through gamification design and development strategies, please contact them at the number below.
Lounge Lizard Worldwide, Inc.
1-888-444-0110
LauraBeth.Dintrone@loungelizard.com