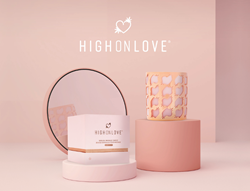 It's our vision at HighOnLove to break down barriers and eliminate taboos that surround self-pleasure.
MONTREAL (PRWEB) May 06, 2020
HighOnLove™ is here to elevate your sexual experience. The brand is adding a Sensual Massage Candle to their line of superior grade sexual wellness products made with cannabis oil. Curated by Angela Mustone, a specialist producer of adult cosmetics, HighOnLove™ looks to provide the perfect second or third party to each users' sexual experience while elevating their interior decor.
Spice up your room, turn up the heat and set the mood for a sensual massage with this luxurious , soy based candle blended with nourishing cannabis seed oil and coconut oil. The alluring scent of rose bud seduces your senses, while the sensation of warm oils against your skin encourages relaxation, loving exploration and romance.
"It's our vision at HighOnLove to break down barriers and eliminate taboos that surround self-pleasure," says Angela Mustone, founder and CEO of HighOnLove. "I wish for our future to continue our movement and help women embrace their sensuality and explore a deeper romance while pampering their skin and creating more elegant room decor."
Using premier grade cannabis oil and nutrient-rich ingredients from the highest quality international suppliers, HighOnLove™ is alchemy at its finest. Angela has travelled extensively across many continents to test ingredients for her groundbreaking product line. Influenced by the world's premium cosmeticians, these skin-friendly formulas provide revolutionary intimate experiences and a level of stimulation only cannabis oil can provide.
HighOnLove™ products are gynaecologically tested, chemical-free, vegan, and cruelty free. Made in Canada with premium, 100% natural ingredients, HighOnLove™ products contain no soap, parabens, allergens or colorants. Two versions of the line will be made available; the THC + CBD line and the Cannabis Seed Oil line to cater to those who live in areas with cannabis restrictions.
HighOnLove™ is available on http://www.highonlove.ca and ranges from $28 - $50 for their full 6-piece product line.
# # #
EDITOR'S NOTE: For more information on HighOnLove or to arrange to speak with a company spokesperson, please contact Nancy Trent or Pamela Wadler at 212-966-0024 or pam@trentandcompany.com.