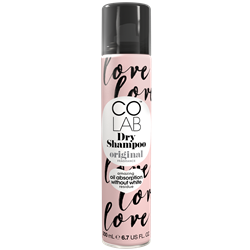 NEW YORK (PRWEB) April 07, 2021
COLAB Dry Shampoo, the brand that's proven suitable for all hair types, colors and textures, is so confident in its multi award-winning formula that it is launching a "Money Back Guarantee" campaign for consumers. This promotion is designed to give consumers confidence to try COLAB for the first time, knowing that they will love its demonstrated invisible, effective formula that instantly absorbs oil and refreshes hair –– or can claim their money back.
We are so proud of COLAB's best-in-class dry shampoos, and the popularity we've created in the US market. "Our lightweight formulas, that work on all hair colours, types and textures, without leaving any chalky residue are truly game changing for the consumer," says Lucy Beresford, Joint Managing Director of SLG Brands. "Our Money Back guarantee campaign is the next step in demonstrating how confident we are that consumers will continue to fall in love with COLAB, with no risk to their wallets."
The Money Back Guarantee campaign will apply to USA purchases of COLAB Dry Shampoo from April 1st, 2021 through June 30th, 2021, and covers any COLAB product from any retailer for up to $8. To be eligible, consumers will need to visit colabguarantee.com to upload their receipt, personal details and a short description of why they did not love COLAB. Full T&Cs at colabguarantee.com.
Since its United States debut in January 2020, COLAB has captured the attention of beauty consumers with its innovative dry shampoos, which come in a range of fragrance choices. The brand has seen great success with beauty consumers in the US market, and increased its retail availability by an astounding 100% last year, growing to 19,000 doors at Target, Walmart, CVS Kroger, Walgreens, and Rite Aid. The brand also introduced the new, category-unique Overnight Renew Dry Shampoo formula and a super-sized version of the best-selling Original formula earlier in 2021.
http://www.colab-hair.com/en-us
http://www.instagram.com/colabhair/
https://www.tiktok.com/@colabhair?lang=en
For more information, please contact Emma@red-pr.com
T&Cs:
Receipt & internet access required. USA only. 18+. Visit colabguarantee.com, upload receipt, personal details and min 15 words of why you did not love COLAB. Purchase between 04.01.2021 – 06.30.2021, claim by 07.31.2021. Max. 1 claim per household per email address. Paid via Transfer Wise or PayPal. Max refund $8. Full T&Cs at colabguarantee.com.