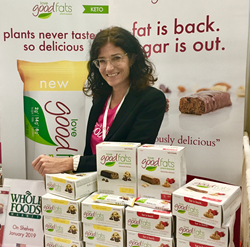 TORONTO (PRWEB) December 12, 2018
As demand for healthy fat-fuelled, keto-friendly snacks continues to grow across North America, The Good Fat Co. Ltd. announced that it has closed a successful common share funding round at $5 million to support its launch into the United States. This brings its total equity raise to date to $9.4 million. This funding enables the brand to aggressively penetrate the US market.
Six flavours of love good fats™ bars are available in more than 2500 doors across Canada and, according to sales data and retailer feedback, they are the #1 and #2 best-selling SKU's in many stores. The brand has grown its revenue by more than 5400% year-over-year.
As of January 21st, 2019, love good fats bars will be available in all 450 Whole Foods stores in the US – unprecedented national retail distribution for a new brand, which would typically be given a smaller number of test stores.
"I'm passionate about changing the way we eat. My bars are based on the latest science that shows that there are health benefits to eating good fats and dramatically reducing sugar in-take. The demand for products that fit into a high fat, low carb lifestyle is growing – customers love our bars because of their melt-in-your-mouth taste. There is nothing like this on the shelves. That's driving phenomenal interest from retailers," said Suzie Yorke, founder and CEO, love good fats.
The love good fats team, armed with strong financial resources, is ready to take the US market by storm. It is expanding its marketing and operations team and is augmenting its sales force through a partnership agreement with Acosta, which will see its product on even more US store shelves. Its robust marketing plan includes in-store demonstrations, 15 second television ads, digital and social media marketing. It is also planning to take its product directly to US consumers and will attend consumer and trade shows from coast-to-coast over the next few months.
"We've built the business from the grassroots up using word of mouth, social media and sampling opportunities," said Yorke. "When people try the bars, they love them. We're getting great consumer feedback on our bars – the texture is truffle-like and just delicious."
Over the next few months, love good fats will continue to build a network of retailers in North America that expands the growing brands' reach and in-store presence. "Of course, we've excited to launch in all US Whole Food stores in January," continued Yorke. "But the coming months will bring our bars to even more store shelves and more consumers." love good fats will be available in six Costco stores in the Greater Toronto Area, Ottawa and Moncton starting December 28, 2018, and at Costco.ca starting this week.
love good fats offers six award-winning snack bars that have 1-2 grams of sugar, moderate protein (9-10 grams) and 14 grams of fats. With the right mix of good fats and very little sugar, the bars fit into a 'keto lifestyle' and are perfect for people who want a grab-and-go snack and are trying to reduce their sugar intake. Whole Foods stores in the US will carry Peanut Butter Chocolatey, Mint Chocolate Chip and Chocolate Chip Cookie Dough flavors.
About the love good fat brand
Suzie Yorke created love good fats™ with a mission to change how we eat. After eating a low-fat diet for over 20 years, and suffering from persistent health challenges, Suzie spent three years researching nutrition and the misinformation about sugar and fats. She is now driven to share her mission with others and is focused on providing clean and delicious snack options that are high in fat and low in sugar.
love good fats currently offers six snack bars and two new fat shakes available online at lovegoodfats.com and Amazon.com in Canada and the US. Suzie's products are also available at Canadian retailers including Whole Foods, Healthy Planet, Loblaws, Sobey's, Walmart, Costco.ca, Longos and Popeye's, among other locations.