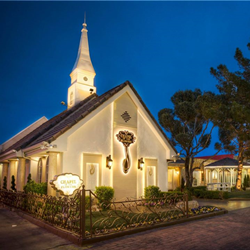 Many couples are choosing to get married at Chapel of the Flowers because of their advanced technology that provides live streaming of ceremonies, allowing loved ones who may have coronavirus/COVID-19 or unable to travel for other reasons to be a virtual wedding guest
Las Vegas, Nevada (PRWEB) March 13, 2020
Chapel of the Flowers is proving that love conquers all in Las Vegas. While much of the country is selling out of hand sanitizer, toilet paper and bread and the media shares 24/7 coverage of school closures, stock market highs and lows, and employees making plans to work from home for the next few weeks, couples committed to each other continue to get married and exchange vows in the Wedding Capital of the World.
Chapel of the Flowers, celebrating their 60th Diamond Anniversary on March 14, announced today that 55 couples from three different countries and sixteen states in the U.S. will exchange vows on Saturday, with family and friends in attendance at the elegant one-acre property.
Many couples are choosing to get married at Chapel of the Flowers because of their advanced technology that provides live streaming of ceremonies. Guests who may have restrictions on traveling because of illness, including coronavirus/COVID-19, will be watching their loved one's weddings and vow renewals thanks to cameras installed in each chapel that live streams the ceremonies.
The weddings and vow renewal ceremonies will start at 9:30 am and run throughout the day in the Glass Gardens, La Capella, Magnolia and Victorian chapels as well as the outdoor gazebo. It is a priority for Chapel of the Flowers to carry on with the ceremonies and honor couples who know that love will prevail, and offers the reminder that even during trying times, we must not lose sight of the hope and promise weddings provide.
The historic one-acre property at 1717 Las Vegas Boulevard South started with a simple Victorian-styled church and iconic white steeple. Back in the 1960s and 1970s, the chapel appealed to couples in love who traveled to Las Vegas from around the United States in search of a traditional wedding venue. Chapel of the Flowers offered a beautiful setting away from the casinos, impeccable customer service and unparalleled value and soon became known as a "destination wedding chapel." True to its name, an on-site team of floral designers created fresh bouquets and arrangements, a tradition that continues to this day.
Chapel of the Flowers is listed as a top-10 "Sights and Venues" location on TripAdvisor. The magical park-like setting has been transformed in recent years under the leadership of new owners Donne and Cindy Kerestic and Allegiant CEO Maurice Gallagher. There are updated chapels to fit every couple's style, from traditional to sophisticated, modern to rustic-chic. Outdoors are a romantic gazebo, a crystal canopy and exquisite water features. The fleet of luxurious limos ensure that couples arrive in style for their ceremony.
Over 250,000 couples have exchanged vows at Chapel of the Flowers since 1960, making this one of the most popular wedding chapels not only in Las Vegas, but the entire world.
Brides and grooms on The Knot, WeddingWire, Facebook, Google and Yelp consistently give the Chapel glowing reviews. The Chapel has earned awards on The Knot with an average 4.9 stars, 4.6 stars on WeddingWire, and 4.7 stars on Facebook. The respected international travel website TripAdvisor lists Chapel of the Flowers as winner of the prestigious "Certificate of Excellence" and as a top place to get married in Las Vegas, with a 4.5-star average rating.
Wedding planners work with couples to make sure every detail is personalized and unique, from custom floral arrangements, bespoke wedding vows, professional videos and live-ceremony streaming, limousine transportation and artistic photography.
About Chapel of the Flowers 
Chapel of the Flowers, located at 1717 Las Vegas Boulevard South, will celebrate its 60th anniversary in 2020. The stunning indoor and outdoor chapels seat between 20 and 88 guests, and receive top ratings from couples around the world as well as from local residents of Las Vegas. 
Founded in 1960, Chapel of the Flowers is Las Vegas' highest rated and largest full-service wedding venue, providing traditional, modern and elegant Las Vegas weddings on the world-famous Strip. An acre of cobblestone-accented grounds and vibrant backdrops are designed to capture every picture-perfect moment of a Las Vegas wedding.
Professional wedding planners, part of a team of over 100 on-site staff members, ensure that every aspect of the wedding day is personal, easy and stress-free. Chapel of the Flowers' impeccable customer service assures the couple that all details of the wedding, including the ceremony, flowers, award-winning photography and reception venues will result in cherished memories for a lifetime. Chapel of the Flowers is honored to be one of the preferred venues in Las Vegas, the wedding capital of the world.
Media Contact
Michelle Goldberg, Marketing Manager
Chapel of the Flowers
Phone: 702-735-4331
Email: MichelleG (at) littlechapel.com
MEDIA IS INVITED TO ATTEND CEREMONIES STARTING AT 9:30 AM.