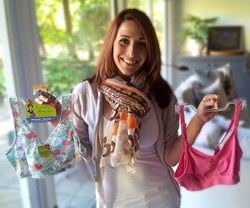 Creating an affordable Maternity to Nursing Collection makes Loving Moments a true maternity destination for all of our Walmart moms.
Cleveland, OH (PRWEB) November 07, 2013
Loving Moments by Leading Lady proudly announces Walmart's new Maternity line that features maternity essentials that are functional, fun, and affordable for all moms. Loving Moments' Maternity Collection complements the existing Loving Moments Nursing Collection and together they create a family lifestyle destination for both new and expectant moms. For the first time, Loving Moments delivers stylish apparel that can be worn through pregnancy and nursing.
Walmart hand-picked 354 stores nationwide to carry the full Maternity to Nursing Collection and selected an additional 923 locations to carry both the Adjustable Maternity Leggings and Maternity Belt. The entire Maternity to Nursing Collection will also be available to shoppers online only at Walmart.com
A Tradition of Invention and Design:
No stranger to innovation, Leading Lady has been a leader in maternity and nursing bra design for over 74 years. In 1959 Leading Lady patented the first maternity brassiere, and in 1974 invented a one-hand nursing clip which is a standard feature on nursing bras today. With a pulse on nursing trends and necessities, Loving Moments by Leading Lady created the Maternity to Nursing Collection to include nursing bras and maternity clothes that have added flexibility to effectively grow with baby and allow for wear from pregnancy to breastfeeding.
Leading Lady President Mark Corrado, a third-generation owner, carries on his family's legacy of innovation by incorporating adjustable design features into the Loving Moments Maternity Collection. Corrado also strongly believes in bringing top quality maternity clothes and bras to women regardless of income level. "Creating an affordable Maternity to Nursing Collection makes Loving Moments a true maternity destination for all of our Walmart moms," Corrado said. Loving Moments achieved Corrado's initial goal of bringing affordable nursing essentials to moms, and the inclusion of the Maternity Essentials Collection presents Corrado with the opportunity to reach expectant moms and fulfill their everyday maternity needs with a collection they'll love.
Sweepstakes to Celebrate New Collection:
To celebrate, Loving Moments by Leading Lady is having a Maternity to Nursing Collection Sweepstakes. Contest ends on December 30, 2013 at 11:59pm EST. Please visit the sweepstakes page to enter and for full contest rules.
Maternity Essentials Moms Will Love:
Loving Moments by Leading Lady's Maternity to Nursing Collection will retail between $5.88 and $16.94. This "must-have" maternity wardrobe provides the essentials every mom-to-be will need during pregnancy and after. Core items in the maternity essentials collection include:

Adjustable Maternity Leggings featuring two side bands that allow the leggings to grow with mom and baby. These leggings sit on mom's natural waistline and can be worn from first trimester through third.
A Maternity to Nursing Sports Bra which features dual adjustable side bands to grow with mom as her rib cage expands during pregnancy. Mom is supported and comfortable for everyday wear and light impact activity.
A Maternity Support Band that helps relieve back, hip, and pelvic pain pregnant moms commonly experience. This three-strap, innovative maternity belt can also be used as postpartum belly support after birth.
An Active Crossover Maternity to Nursing Top worn as every mom's go-to top for pregnancy and breastfeeding. This stylish front wrap maternity top has added length to accommodate mom's growing baby belly.
A Maternity to Nursing Leisure Sleep Bra with front wrap cups works perfectly for nighttime, fuss free breastfeeding. Loving Moments' Washable Nursing Pads (one pack includes 6 pairs) slip easily into the leisure sleep bra and are lightly contoured for a better breast fit.
Visit http://www.lovingmomentsbras.com for more product details and features.
About Loving Moments:
Committed to providing new and expectant moms with the maternity and nursing essentials they need and love, Loving Moments by Leading Lady encourages the bond between a mother and her baby by creating maternity clothes and nursing bras that encourage close contact important for successful breastfeeding. With ease and cute style in mind, Loving Moments by Leading Lady celebrates a mom's expanding family. Available only at Walmart and Walmart.com. Visit http://www.lovingmomentsbras.com for more information.
About Leading Lady:
Family owned and operated since 1939, Leading Lady has been dedicated to serving intimate apparel markets for nursing and full figure women. With a flair for design and innovation, the company also tailors quality lingerie for top brands and retailers across North America. Leading Lady is dedicated to making comfortable, stylish lingerie that makes any woman feel like a star. Visit http://www.LeadingLady.com for additional information.