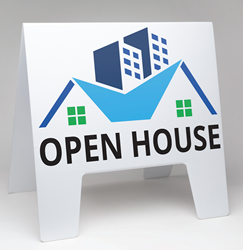 The quick fold A-frame is great for realty signs and other signs that are used frequently, often at different locations.
CHICAGO (PRWEB) March 28, 2019
Sunrise Hitek debuts new A-frame sandwich signage. A-frame signs are both economically priced and easy to use. Due to the "A" shape of the sign it can be set-up or collapsed in the blink of an eye. Since different users have different needs, Sunrise created two different versions of this sign. Customers can choose from a lightweight quick fold A-frame and a heavy-duty A-frame depending on where and how they plan to use the piece.
The quick fold A-frame option is both lightweight and economical, and a Sunrise exclusive design. Full color, full-bleed images are printed directly to corrugated plastic boards that are waterproof and outdoor durable. These signs are super lightweight and folded for shipment. To set up, one needs just pop open and interlock the legs to create a shelf. When used outdoors, weight can be placed on the shelf to improve stability. Graphic panes are available in (6) standard sizes plus any custom size up to 47"x47".
The Heavy-Duty A-Frame signs are a durable 100% plastic product that will not rust, splinter, or need painting. Sunrise is a great place to get them at very reasonable prices. The A-frame hardware is 27"x45" and has a 24"x36" sign area for inserting graphic panels. One can easily display a sign on each side of the stand. The molded handle provides easy portability. These stands can be internally weighted down with sand as well. The stand has a "lift up, drop in" feature and requires no hardware to add a rigid sign panel (up to 3/16" thick). The "lift up, drop in" feature is the key element that makes this stand different from other similar looking sign stands. Graphic area, 24" x 36" per side.
These signs have a wide variety of uses. Some popular ones include: sidewalk signs for both indoor and outdoor shops as well as bars and restaurants. Uses range from percentage off sale announcements to menus or even specials and hours of operation. The heavy-duty A-frame is perfect for restaurants and bars that frequently change out their menus and specials. A-frame signs can be used temporarily for wayfinding and parking at events like festivals or team building functions. The quick fold A-frame is great for realty signs and other signs that are used frequently, often at different locations.
About Sunrise Hitek
Sunrise Hitek offers speedy and innovative marketing execution for the world's leading brands. Sunrise is an Inc. 5000 company established in 1988 and employs the most advanced equipment and technology, such as G7-certified HP Indigo and UV flatbed presses, and digital die-cutting, to create best-in-class color printing, packaging, trade show graphics, and promo products. A privately-owned enterprise, the company is based in Chicago and sells products worldwide.