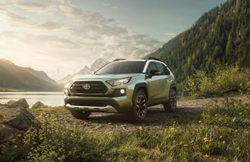 DECATUR, Ala. (PRWEB) March 09, 2019
Now through April 1, Toyota of Decatur is providing prospective customers with several low-financing opportunities on eligible new cars. More specifically, this invitation has been extended to select models of the following 11 vehicles: the 2018 Toyota Tacoma, 2019 Toyota Tacoma, 2019 Toyota Tundra, 2019 Toyota Camry, 2019 Toyota Camry Hybrid, 2018 Toyota RAV4, 2018 Toyota RAV4 Hybrid, 2019 Toyota Corolla, 2019 Toyota C-HR, 2019 Toyota Highlander and 2019 Toyota Sienna. Simply put, practically any new car customer is sure to find a great automotive match in this lineup.
During this promotion, eligible models will be available with zero-percent annual percentage rate (APR) financing. Naturally, not all customers will be able to advantage of this special, as one must possess qualifying credit in order to do so. With that in mind, interested parties that would like more information about the dealership's credit requirements are encouraged to speak with the Toyota of Decatur sales team by calling 256-274-4354.
Or, if one would rather do their research on a smartphone or computer, then they are sure to appreciate the dealership's state-of-the-art website, which can be visited at http://www.toyotaofdecatur.com. Once there, members of the public can complete a variety of tasks, such as scheduling a test drive, viewing the dealership's current inventory and learning more about the eligible models for this financing event. Additionally, those who would prefer a face-to-face interaction are welcome to visit the dealership in person at 309 Beltline Pl.