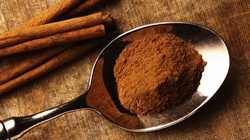 Boston, MA (PRWEB) March 31, 2014
A new report and video from BetterDigestion.org titled Lower Blood Sugar and Reduce Risk of Diabetes with Cinnamon explains how this spice can stabilize fasting fasting blood sugar, lower insulin levels and reduce the risk of diabetes, especially when added to foods that lower blood sugar.
Healthy blood sugar levels have been linked to a decreased risk of heart disease, help maintain a healthy weight, stop mood swings, increase energy levels and slow the development of diabetes. Cinnamon has demonstrated the ability to lower blood sugar naturally.
The article and video released by BetterDigestion.org describes how including more cinnamon in the diet can help prevent fasting blood sugar levels from rising to the point where people transition from being pre-diabetic to diabetic.
Evidence that cinnamon can help stabilize and even reduce blood sugar levels is causing much excitement, opening the possibilities of many natural ways to lower the risk of developing diabetes. Considering that one in four Americans are currently considered pre-diabetic, it's logical that cinnamon is becoming an increasingly popular natural supplement to reduce the risk of diabetes, heart disease, obesity, and metabolic syndrome for many people.
Cinnamomum Burmannii, a specific extract of cinnamon bark, has been shown to lower blood sugar after eating foods rich in carbohydrates while at the same time increasing the metabolism of glucose by 10 times the normal rate.
The complete Lower Blood Sugar and Reduce Risk of Diabetes with Cinnamon article and video are available at: http://betterdigestion.org/lower-blood-sugar/.
A second bonus report, 4 "Sneaky" Tricks To Lower Blood Sugar, shares important information about lowering blood glucose and losing weight. This report is available for a limited time at http://betterdigestion.org/lower-blood-sugar-levels-today/.
About: BetterDigestion.org is a new website that was launched in March of 2013 in order to provide premier content for healthy digestion and overall health. The website also contains a plethora of information on how to control blood sugar levels which helps reduce the risk of diseases like Diabetes. Most recently they released a video titled " Reduce Chronic Inflammation With These Heart Healthy Oils".