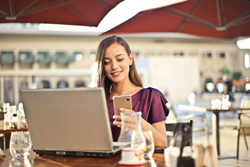 Patients have a bigger financial stake in their care. So, just as with every other "purchase" they make, they're looking for providers who deliver great experiences and good value. Digital engagement is one of the most efficient and effective strategies a healthcare provider can leverage to meet the
LAFAYETTE, Calif. (PRWEB) September 19, 2018
Beginning in the early 2000's, the healthcare industry began offering patients a way to engage online, rather than by calling or stopping by a facility location. These digital environments or portals linked primarily to patient health records and facilitated direct communication between the patient and caregiver. More sophisticated portals also empowered patients with the ability to schedule and change appointments, review lab results and renew prescriptions at any time – day or night.
The next phase in the evolution of patient online experiences – the financial phase - began several years later. Inspired by the spectacular success of online businesses in travel, hospitality and retail, it became clear that the Internet was an efficient and popular place to conduct financial transactions. Along with that recognition came the growth of patient payment portals – online environments where patients could review their balances and pay their bills using a variety of tender types, all without any interaction with provider staff.
The benefits of digital engagement for the providers and consumers of healthcare are well documented - cost efficiency, convenience and the ability to collect and analyze data. The digital channel is perfectly suited to helping providers manage the transition into consumer-driven healthcare. But for too many healthcare providers, the evolution of their digital patient engagement strategy stopped here. These provider organizations are not only missing an opportunity to better serve their patients and communities, they may be placing themselves at risk.
It's not safe for providers to assume that patients don't expect their health system or hospital to deliver experiences that look and feel more like the other brands they choose. Patients have a bigger financial stake in their care. So, just as with every other "purchase" they make, they're looking for providers who deliver great experiences and good value. Digital engagement is one of the most efficient and effective strategies a healthcare provider can leverage to meet these growing patient expectations. Those who fail to meet these expectations forfeit patients to providers who do.
When a portal is more than a portal
The first phase of digital patient engagement could be characterized as the clinical portal phase. The second phase could then be considered the financial portal phase. But the next phase – the phase the industry is entering into today - needs to shed the constraints imposed by the term "portal". A portal is a relatively simple digital device offering users a "way in" to an environment that doesn't belong to them. True, robust digital patient engagement should be labeled for what it is exactly, which is why I call this phase the comprehensive or holistic digital patient engagement phase.
In this phase, every element of the patient care experience is considered in a digital strategy that offers better value to both patients and their providers. For patients, holistic digital engagement offers better access to information and resources, empowering patients to make informed decisions. It also provides personalized support at every milepost in the patient journey to help ensure that obstacles to care are minimized and access to care is optimized.
For providers, holistic digital engagement is a highly cost-effective way to elevate clinician and staff satisfaction, improve operating efficiencies and drive revenue growth. Just as important, the wealth of data that digital engagement generates represents a treasure trove of business intelligence to better manage and continually improve operating performance and the pursuit of brand and mission objectives.
Defining Holistic Digital Patient Engagement
For help defining the elements that compose a high-functioning digital patient engagement environment, it's necessary to look outside the healthcare industry. In the last 10-15 years, digital consumer engagement has turned many, once-stable business models completely upside down. Retail of all kinds, movies, music, financial services & investing, real estate, and more have all been completely or substantially reinvented in the blink of an eye. So, we'll turn to two companies whose methods are particularly applicable to healthcare in order to develop a healthcare-specific strategy that benefits from proven best practices. Those two companies are Amazon and Apple.
We'll begin with Amazon, of course. This trillion-dollar (market cap) company has revolutionized the way people shop for everything from toothbrushes to cloud computing. Through the continual and relentless application of data and a commitment to execution, they have removed the friction in financial transactions, personalized the experiences of millions of consumers around the globe and built one of the most trusted brands in history.
Next, we'll take a look at Apple. Another member of the trillion-dollar club (The first. There are two). Apple has an unparalleled ability to deliver elegant, seamless experiences to its customers in every setting, every time. The elegance of the experience belies the mindboggling complexity of the underlying systems and technology – whether it's taking a portrait with your new iPhone, remixing a playlist on that phone or visiting the Apple store. Consumers love Apple because it works, it's easy. And now, it recognizes them when it sees them.
Drawing from these two companies' successful digital consumer engagement strategies, we've distilled the following crucial attributes for a successful digital patient engagement strategy. In other words, a portal that's no longer just a portal…
1. The strategy is supported by a platform
2. It delivers an intuitive, easy-to-use experience for patients and providers
3. It is unquestionably, unfailingly safe, secure and reliable
4. It delivers a uniquely intimate, personal experience
5. It enables the delivery of superior patient experiences in every setting, every time
6. It learns and responds, inviting and encouraging interaction while continually improving outcomes
At Loyale (since we do this for a living) we find it highly useful to break these down by examining the functionality that enables each of elements.
The Strategy is supported by a platform – A cloud-based platform configuration is the surest way to respond to the diverse technical and process requirements that exist in healthcare delivery environments. Platforms can accommodate large-scale deployments across systems regardless of the complexity of their technological and cultural ecosystems, seamlessly incorporating clinical, administrative, case management and financial activities
It delivers an intuitive, easy-to-use experience for patients and providers – Whether you call it UX (User Experience) or UI (User Interface), how a user perceives and reacts to the online experience is the linchpin that determines success or failure. Here, professional design informed by years of successful consumer and user interaction is accompanied by system analytics to continually examine what's working and what's not.
It is unquestionably, unfailingly safe, secure and reliable – Table stakes, but always worth mentioning.
It delivers a uniquely intimate, personal experience – Meeting patient expectations for relevant, appropriate clinical, administrative and financial information and bidirectional communications using data derived from a variety of sources to segment patient populations, patient sentiment (user surveys) and the continual collection of data throughout the user experience.
It enables the delivery of superior patient experiences in every setting, every time – Whether the patient is in a health system's flagship hospital or their urgent care facility in the suburbs, exceptional, consistent experiences that enable staff to recognize the patient so she feels like she's where she belongs. For providers, user experience is enhanced with data-driven, intelligent workflows that automatically identify the most collectible patient receivables, so collection efforts can focus on the most probable revenue sources. The same intelligence drives digital communications with the style, tone and over the appropriate channel to meet patient preferences and drive improved outcomes.
Interestingly, and probably not surprisingly, both Apple and Amazon are getting into healthcare. It's too early to tell exactly what they're impact on the industry will be, but it's probably safe to assume that the same principles that allowed them to reinvent other industries will probably be a part of their healthcare strategy.
These behemoths' entry into healthcare, and the high standards they have set for consumer engagement add even more pressure to healthcare providers. Old concepts about patient portals, clinical or financial, must be reimagined. A holistic digital patient engagement strategy is the surest way for a provider to ensure that they're not the next casualty in the coming consumer-digital tsunami.
Kevin Fleming is the CEO of Loyale Healthcare
Loyale Patient Financial Manager™ is a comprehensive patient financial engagement technology platform leveraging a suite of configurable solution components including predictive analytics, intelligent workflows, multiple patient financing vehicles, communications, payments, holistic digital patient engagement channels and other key capabilities.
Loyale Healthcare is committed to a mission of turning patient responsibility into lasting loyalty for its healthcare provider customers. Based in Lafayette, California, Loyale and its leadership team bring 27 years of expertise delivering leading financial engagement solutions for complex business environments. Loyale currently serves approximately 2,000 healthcare providers across 48 states. Loyale recently announced an Enterprise level strategic partnership with Parallon including deployment of its industry leading technology to all HCA hospitals and Physician Groups nationwide.