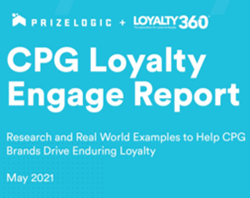 CPG brands need to create loyalty strategies that are designed to address their unique industry dynamics
SOUTHFIELD, Mich. (PRWEB) June 03, 2021
Loyalty360, the trade association for customer loyalty, and leading incentivized engagement provider PrizeLogic have released the "CPG Loyalty Engage Report", a first-ever research study into the unique dynamics of CPG Loyalty in order to help brands motivate both purchase and non-purchase behaviors and create deeper connections with consumers. The report, which surveyed over 2,200 US consumers, provides insights into how CPG brands can leverage loyalty strategies to drive incremental purchase, first-party data acquisition, member engagement, and advocacy.
Key insights from the 2021 CPG Loyalty Engage Report include:

Participation: 74% of consumers surveyed have enrolled in at least one CPG loyalty program, with Food & Beverages being the most popular category
Why Consumers Become Members: While recommendations and a consumer's relationship with the brand contribute, the incentives offered are by far the biggest reason people sign up for CPG loyalty programs
Influencing Consumer Behavior: 72% of program participants say their CPG loyalty membership has resulted in incremental purchase
Keeping Members Engaged: Delivering ongoing program news is an effective strategy to keep members engaged, with 94% of participants saying "new program rewards" and 84% saying "opportunities to win exciting prizes" are important to keep the program fresh and engaging
"CPG Loyalty Programs have proven to be an effective tool for driving sales and motivating other valuable consumer action," says Matthew Kates, CMO of PrizeLogic. "To be successful, CPG brands need to create loyalty strategies that are designed to address their unique industry dynamics such as an indirect relationship with consumers and a low spend per purchase."
About PrizeLogic
Founded in 2008, PrizeLogic is the largest independent digital engagement company and a trusted partner to both Fortune 500 brands and leading agencies. The company's solutions combine incentives, experiences, and insights to influence behavior more effectively across the customer journey. The PrizeLogic Engage Platform powers loyalty programs, promotions, and rebate programs for leading agencies and Fortune 500 brands such as Molson Coors, PepsiCo, Samsung, T-Mobile, Lowe's, and Capital One.
About Loyalty360
Loyalty360 is the association for customer loyalty. We bring together the best loyalty-focused professionals from technology and service supplier partners and brands under one roof. Through Loyalty360, these professionals find invaluable resources, networking opportunities, and guidance provided by internal thought leaders and brands/suppliers on the cutting edge of customer loyalty. Loyalty360 members are provided with the network and resources they need to continue their path to true customer-centricity. Our membership options are focused on brand/marketers and suppliers - and are tailored to meet the specific needs of each.
As an association, our goal is to arm our members with the insights, network, and resources to advance their careers, build stronger brands and deepen relationships with their customers. We are here for our members and their brands as we work to transform the entire customer loyalty industry.