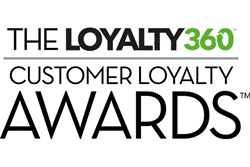 From their internal commitment to the qualitative and quantitative metrics supporting their efforts, these award winners are in the vanguard of customer loyalty and experience.
CHARLOTTE, N.C. (PRWEB) May 28, 2019
Loyalty360, The Association for Customer Loyalty, is proud to share the winners of the 2019 Loyalty360 Awards, which were announced on May 22 during Loyalty360's Loyalty Expo in Charlotte, North Carolina. The awards recognize brands that are building stronger and deeper loyalty with their customers in a proactive, meaningful, and—most importantly—measurable way. Loyalty360 awarded finalists in twelve categories, each representing a key facet of a brand's customer loyalty focus.
Winners for the Loyalty360 360 Degree Awards were also announced during the ceremony. These awards recognize the brands with the best overall weighted average finishes across multiple categories and the suppliers that had the highest weighted average client or multiple client finishes across categories.
The winners for the 2019 Loyalty360 Awards are as follows:
Loyalty Program Design
Platinum: DSW
Gold: Cinemark
Silver: Food Lion
Bronze: Break Time
Technology and Trends
Platinum: 7-Eleven, Inc.
Gold: Caesars Entertainment
Silver: Hertz
Bronze: Zumiez
Creative Campaign
Platinum: Domino's
Gold: Ally Financial
Silver: Mountain Dew
Bronze: Sony Rewards
Customer Loyalty Strategy
Platinum: Sunglass Hut
Gold: Sumo Sushi & Bento
Silver: Overstock.com
Bronze: Wyndham Hotels & Resorts
CX Strategy
Platinum: Sugarfina
Gold: Tarte Cosmetics
Silver: Caesars Entertainment
Bronze: MGM Resorts International
Employee Engagement
Platinum: Omni Hotels and Resorts
Gold: MGM Resorts International
Silver: Overstock.com
Bronze: Sodexo
Incentive and Reward Design
Platinum: Verizon Wireless
Gold: Mountain Dew
Silver: Wyndham Hotels & Resorts
Bronze: TELUS
Influencer Marketing
Platinum: InterContinental Hotels Group (IHG)
Gold: The Vitamin Shoppe
Silver: Sleep Number
Bronze: Dollar Car Rental
Metrics and Measurement
Platinum: Caesars Entertainment
Gold: McClatchy
Silver: Sodexo
Bronze: Accor
Social Impact
Platinum: Food Lion
Gold: DSW
Silver: Ally Financial
Bronze: Erie Insurance
Program Partnership
Platinum: Verizon Wireless
Gold: Sleep Number
Silver: Ally Financial
Bronze: Celebrity Cruises
B2B Customer Loyalty
Platinum: Thermo Fisher Scientific
Gold: Floor and Decor
Silver: InterContinental Hotels Group (IHG)
Bronze: Hilton
360 Degree (Supplier)
Platinum: Crowdtwist
Gold: The Lacek Group
Silver: Lenati
Bronze: PrizeLogic
360 Degree (Brand)
Platinum: Verizon Wireless
Gold: DSW
Silver: Caesars Entertainment
Bronze: Food Lion
Earlier this spring, brand finalists for each category were chosen by a board of judges comprised of Loyalty360 members, representing some of the top minds in customer loyalty. During the conference, each of the selected finalists delivered a short presentation on their brand's award entry, after which conference attendees voted for what they felt represented platinum, gold, silver, and bronze winners in each category.
"The Loyalty Expo and the Loyalty360 Awards are crucial pieces of our mission at Loyalty360, since we are the association that brings together the best minds in customer loyalty," said Mark Johnson, CEO, Loyalty360. "We hear from attendees time and time again that the case studies presented by these finalists are among the best stories of the event, and this year was certainly no different. The 2019 Loyalty360 Award finalists have proven their dedication to loyalty through one or more of the most important facets we put forth as this year's categories. From their internal commitment to the qualitative and quantitative metrics supporting their efforts, these award winners are in the vanguard of customer loyalty and experience."
Carly Stemmer, Vice President of Marketing at Loyalty360, added, "With 33 unique brands selected as finalists and over 125 initial submissions for this year's Loyalty360 Awards, the 2019 Awards were the most competitive set of awards yet. This year's finalists come from a variety of industries and have shared a wide range of loyalty and customer experience strategies, programs, and initiatives in their submissions and presentations. The interest and variety in this year's awards speak volumes about the growing interest in customer loyalty and suggest that there is a not a one-size-fits-all approach or solution that can define a brand's success. Brands' unique insights and stories are what makes their participation in the Loyalty360 Awards great, and we look forward to their journeys and continued success."
For more information on Loyalty Expo or the Loyalty360 Awards, contact Loyalty360.
About Loyalty360
Loyalty360 is the only objective community for customer loyalty, which seeks to enable and encourage dialogue among industry leaders. Through a unique blend of content, collaboration, and diverse learning opportunities, we've created a network of brands and technology providers that represent some of the best voices that the customer loyalty industry has to offer. Visit us at Loyalty360.org or follow us @Loyalty360.
About Loyalty Expo
Loyalty Expo is a VoC-driven, best-practice-focused customer loyalty and reward conference. Market leaders share their experiences and insights on customer retention strategies and trends. In addition, the Expo provides the knowledge necessary to guide customers on the path to loyalty and has earned a reputation as one of the industry's premier events. The three-day event is jam-packed with learning and networking opportunities, including over 20 interactive sessions, cocktail receptions and meals in the exhibit hall, marketer-only peer-to-peer roundtables, and product and technology showcase sessions.