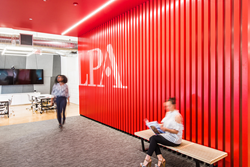 "We have enjoyed a great deal of success in Dallas so far and we believe there are real opportunities as the region continues to grow."
DALLAS (PRWEB) July 17, 2018
LPA Inc. has moved into a new location in downtown Dallas' popular West End Historic District, as the firm continues to grow its local team of architects, interior designers, landscape architects and engineers.
LPA expects to double its staff in Dallas within the next year, as its expands its services in education and workplace design. The design studio is currently working on projects with Carroll Independent School District and real estate services firm Berkadia on its local office design.
The Dallas office is led by Craig Drone and Gary Blanton, who have a combined 50 years of experience in Texas, primarily working on developing innovative schools and education environments.
"We have enjoyed a great deal of success in Dallas so far and we believe there are real opportunities as the region continues to grow," says Drone, Principal and Studio Director of LPA Dallas. "I have lived and worked in Dallas for nearly 20 years and I look forward to continuing our contribution to the fabric of the region."
LPA opened its Dallas location in April 2017 and has since established itself as one of the fastest-growing companies in the region. The team brings a wealth of experience and knowledge of the Dallas marketplace with an emphasis on creative collaboration, environmental intelligence and research-driven design.
For its new office, LPA transformed a portion of the existing Landmark Center building on North Lamar Street into a creative workspace for its Dallas team. The repurposed 7,000-square-foot office features 14-foot-tall ceilings, a resource library and flexible spaces for designers to collaborate and communicate.
"We wanted to maintain the integrity and character of the existing building to honor the historic urban region," Drone says.
LPA has developed one of the largest portfolios of LEED-certified buildings in the country.
"Sustainable designs are becoming more and more important in the Dallas market," says Gary Blanton, Principal in the Dallas office. "It's not about the plaque on the wall; it's about a design that reduces the long-term operational costs and the footprint of the built environment."
A private grand opening event for the new office is scheduled for Thursday, July 19, 2018.
About LPA
A pioneer in sustainable design, LPA provides services in architecture, engineering, interior design, landscape architecture and planning. With more than 400 employees across offices in California and Texas, LPA delivers integrated design solutions for K-12 schools and higher education facilities, civic, recreational, workplace and healthcare developments to enhance the human experience. As one of the country's only design firms with a dedicated research team, LPA draws on rigorous data and analysis to create environments that improve people's lives. For more information, visit http://www.lpadesignstudios.com.