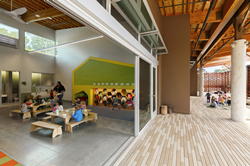 Projects that achieve Living Building certification can claim to be the greenest anywhere and will serve as role models in their communities for redefining the future of the built environment
IRVINE, Calif. (PRWEB) May 24, 2023
The Environmental Nature Center Preschool in Newport Beach designed by LPA Design Studios has been awarded Petal Certification by the Living Building Challenge, the penultimate level of recognition by the world's most rigorous performance standard for sustainable buildings.
The nature-based preschool is the first project in Orange County, and only the third in Southern California, to receive Petal certification, a performance-based standard recognizing "living buildings" that restore and support the local environment. Only 54 buildings in the world have achieved Petal certification.
"Projects that achieve Living Building certification can claim to be the greenest anywhere and will serve as role models in their communities for redefining the future of the built environment," according to the International Living Future Institute, the group that sponsors the Living Building Challenge.
The net-energy-positive, LEED Platinum ENC Preschool, developed in collaboration with educators, the community and the existing Environmental Nature Center, seamlessly blends indoor and outdoor learning environments to provide children with an intuitive understanding of the natural world. The design has been recognized with many of the industry's top awards since its completion in 2019, including the national American Institute of Architects' COTE Top Ten Plus Award, the architecture industry highest honor for sustainable design.
"From the start of the process, we were focused on designing a school that would give back to the environment, and connect young children to nature," said LPA Design Director Rick D'Amato. "The Petal certification provides validation that we were able to design a regenerative facility that contributes to healthier, happier people."
The Living Building Challenge focuses on measurable results. The certification process for ENC Preschool took three years to complete, including a 12-month energy performance audit. The project was evaluated across seven categories, referred to as Petals, and received top marks in the Energy, Equity and Beauty categories as well as recognition in Health + Happiness and Place.
"The Living Building Challenge is called 'challenge' for a reason," said LPA Director of Engineering Erik Ring. "It is a rigorous standard, only achieved by projects that make truly unique statements."
ENC Preschool met the standards of the Petal certification through a mix of active and passive design strategies. Natural ventilation, radiant slab heating, heat pumps and abundant daylighting minimize the building's energy load, while a 32 KW rooftop photovoltaic system offsets 130% of school's energy use and powers three EV charging stations. Universal access to nature and a strong sense of place boost equity. Healthy learning environments were developed with superior indoor air quality, confirmed through multiple indoor air quality tests, while the landscape design supported local habitats, in addition to hands-on learning environments.
"From the beginning, our vision with LPA was to make ENC Preschool a living monument to ecological responsibility, sustainable practices and environmental education," said Bo Glover. "Thanks to the dedication of our small, passionate team, we've created a landscape for learning that meets the high bar for environmental and human health set by the Living Building Challenge."
The Living Building Challenge was created in 2006 as an attempt to "dramatically raise the bar from a paradigm of doing less harm to one in which we view our role as a steward and co-creator of a true Living Future," according to the organization. Earning certification "requires leading-edge technical knowledge, an integrated design approach, and design and construction teams well versed in advanced practices related to green building."
The Challenge recognizes projects across multiple programs including Core Certification, Zero Carbon Certification, Zero Energy Certification, Petal Certification and Living Certification.
About
LPA Design Studios is a multi-discipline firm focused on collaboration, inclusion and an integrated design process that connects building performance and design excellence. Founded in 1965, the firm's mission is to deliver timeless, sustainable designs that benefit the environment, generate lasting value, enrich the human experience, and ensure a better future. With six studios in California and Texas, LPA's team includes more than 400 in-house architects, master planners, engineers, interior designers, landscape architects and research analysts, working across a wide array of sectors. In 2021, LPA was honored as AIA California's Firm of the Year, the organization's highest annual honor for an architectural firm. For more information, visit lpadesignstudios.com.