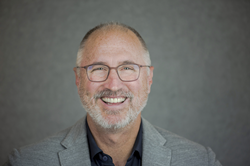 "Under Steven's leadership, LPA has expanded the idea of what design can deliver to higher education institutions," said LPA President Dan Heinfeld.
IRVINE, Calif. (PRWEB) February 28, 2023
LPA Design Studios Director of Higher Education Steven Flanagan has been elevated to the 2023 College of Fellows by the American Institute of Architects (AIA) in recognition of his significant national contributions to the architecture profession.
Since joining LPA in 1994, Flanagan has committed his career to improving student outcomes and sustainable performance for higher education institutions. His work has impacted millions of students, particularly on community college campuses, where he has helped transform the design ethos and elevate the standards for facilities supporting underserved students. His elevation to the College of Fellows is testimony to his impact on design, sustainability, and campus placemaking, all achieved within a shared governance process and tight publicly funded budgets.
"Steven is an enthusiastic design leader whose work is powerful proof that design changes lives," said CEO Wendy Rogers, who is also a member of the College of Fellows. "This is the AIA's highest membership honor and recognizes the exceptional work and contribution that Steven has made to architecture, society and our firm."
In addition to Rogers, Flanagan joins three other LPA leaders who have spent their careers at LPA and earned the Fellows distinction: President Dan Heinfeld; Design Director Rick D'Amato; and Chief Design Officer Keith Hempel.
Flanagan collaborated to establish LPA's higher education practice in 2000 from the ground up, instituting an integrated design process that merges typically separate design disciplines with research to deliver contextually sensitive, and inspiring state-of-the-art facilities. His focus on the early phases of design, where collaboration with decision makers and users is paramount, made it possible to elevate quality while controlling costs in a notoriously budget-conscious fiscal environment.
Under Flanagan's leadership, LPA's higher education practice work has been recognized for its design excellence with 85 national, state and local AIA awards, including two national Committee on Architecture in Education (CAE) awards and two national Society of College and University Planners (SCUP) awards.
"LPA is a very special place that allows people to passionately express themselves and to work toward larger goals," Flanagan says. "It is an honor to belong to a family of likeminded design professionals, who are working side-by-side with institutions to develop the next generation of leaders."
Flanagan's influence on higher education campuses can be seen on a wide variety of award-winning projects on California Community College Campuses and California State University Campuses.
"Under Steven's leadership, LPA has expanded the idea of what design can deliver to higher education institutions," said LPA President Dan Heinfeld. "The processes he pioneered have achieved greater campus cohesion, improved student wellbeing and sustainability that is focused on energy and carbon reductions."
Much of Flanagan's work has been in the California Community College (CCC) system, where many students are the first in their families to attend college. His passion for equity has created campuses that inspire students to go to college, stay in college and graduate. His work across three decades has elevated the expectations of the CCC system as a whole and raised the bar for facilities on community college campuses.
Membership in the College of Fellows is reserved for architects who have made significant contributions to the profession and society on a national level and who have achieved an extraordinary standard of excellence. Only about 3 percent of the AIA's 95,000 members are Fellows.
The 2023 College of Fellows includes 76 AIA members from across the nation. Flanagan and the other newly elevated AIA Fellows will be recognized at the 2023 AIA Conference on Architecture in San Francisco, an event scheduled in June 2023.
About
LPA is a multi-discipline firm focused on collaboration, inclusion and an integrated design process that connects building performance and design excellence. Founded in 1965, the firm's mission is to deliver timeless, sustainable designs that benefit the environment, generate lasting value, enrich the human experience, and ensure a better future. With six studios in California and Texas, LPA's team includes more than 400 in-house architects, master planners, engineers, interior designers, landscape architects and research analysts, working across a wide array of sectors. In 2021, LPA was honored as AIA California's Firm of the Year, the organization's highest annual honor for an architectural firm. For more information, visit https://lpadesignstudios.com.